You've heard it at LiveSide (and LiveSino) first, that Windows Live Photo Gallery will feature facial recognition in its wave 3 release. Then we saw a mocked-up screenshot of how it may have looked like. Microsoft then helped us confirm it with their Windows Live Help entries. Today, you'll see here for the first time how it really looks like. Enough words said, we'll get straight to the screenshot that will explain it all:
Notice on the left-hand pane it now shows two tagging sections, one for the new "People tags" and another for "Descriptive tags" which already exists in the current version. Expanding the "people tags" section will show a list of people you have ever tagged in your collection of photos in your Windows Live Contact list.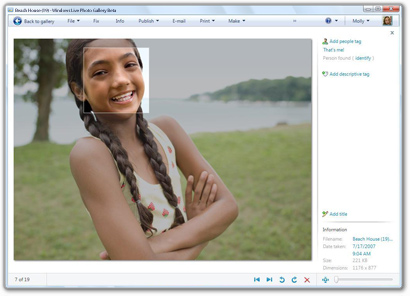 Similar to Facebook, you're now able to tag each person in your photos. What is different is that Photo Gallery will automatically detect faces in your photographs, allowing you to identify each person in the photos.
It also seemed like Google had beaten Microsoft to the race by releasing name taggings features in Picasa Web Albums too. Microsoft, the race is on!
Update: Seems like when you expand the "People tags" section, it will display the list of contacts from your Messenger contact list, including your favourite contacts. Also, from the screenshot below we can see that you're able to view those photos shared by your Messenger contacts using the PhotoShare function. That is some good integration across Windows Live services.