Just a reminder that today is IE9 release day, set to launch with a press event and live webcast at 5:30pm PDT, or 7:30pm local Austin, Texas time, as the Beauty of the Web launch event gets underway at SxSW: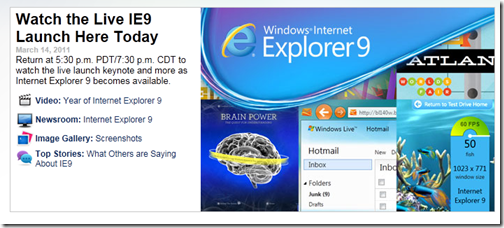 http://www.microsoft.com/presspass/presskits/internetexplorer/
As usual, be prepared if the download links get discovered a bit early, as they usually do.  We'll be keeping our eyes open, let us know if you spot anything!
This entry was posted in Featured, News and tagged IE9. Bookmark the permalink.
---