Windows Phone just made a number of announcements from the Game Developer's Conference (GDC) in San Francisco today, including new options from middleware partners, new game titles, and more.
First up: the games. A post on the Windows Phone Consumer blog has quite the list of new titles for Windows Phone 8, including a couple of exclusives. Topping the list is Gravity Guy 2, which will be exclusive to Windows Phone 8 for the next month: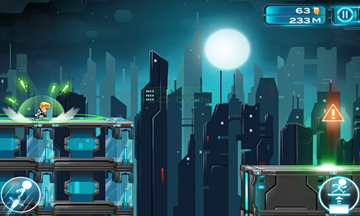 Adding to the list are a number of games already made popular on other mobile platforms and coming now to Windows Phone, including Chaos Rings, 6th Planet, and Orcs Must Survive. Check out the blog post for more information.
In a companion blog post on the Windows Phone Developer blog and at GDC, Microsoft also announced new middleware partner opportunities with a number of game developer companies, including Unity, who are releasing the beta of their Unity engine for Windows Phone:
Earlier today, Unity announced the Unity 4 open beta for Windows Phone 8. Open to all developers, the beta program represents an opportunity to try the new tools, provide feedback, and begin Windows Phone 8 game development. Unity is already showing off a few popular titles built on the new platform and available in the Windows Phone Store today, including: Drift Mania Championship 2 (Ratrod Studio), Windows Phone-exclusive Fling Theory (Coding Jar Studios), and Orcs Must Survive (Echoboom) and coming very soon, Temple Run.

In addition, Marmalade just released a new beta of its Windows Phone 8 SDK, also open to all developers, and announced the first 2 games ported from iOS and Android: 6th Planet (Monkube) and Propel Man (Spiel Studio).

Havok is showing off its support for Windows Phone 8 here at GDC with striking graphics demos. Andrew Bowell, Head of Product Management at Havok commented: "At Havok, we are all about enabling immersive 3-D worlds, highly realistic and interactive character simulation, and cinematic visuals. The Windows Phone 8 platform provides the access Havok needs to really optimize down to the metal and to allow developers to create rich content and enhanced gameplay experience."
Microsoft also announced that over 1/3 of all downloads and 60% of revenue from the Windows Phone Store originate from games, and clearly will play a big part in any eventual successes Windows Phone achieves. Yesterday, in a bit of sleight of hand, Frank Shaw announced that:
Windows Phone has reached 10 percent market share in a number of countries, and according to IDC's latest report, has shipped more than Blackberry in 26 markets and more than iPhone in seven.
We have to wonder how many of those 7 markets where Windows Phone beat iPhone are Finland, but hey, progress is progress!