Yesterday, Bing updated its Videos section, and now today there's news of another update, this time to …. News. The new look News section is built for touch and features an adaptive design, automatically adapting for your device width whether you're on a tablet, phone, or PC, according to a post on the Bing Search blog.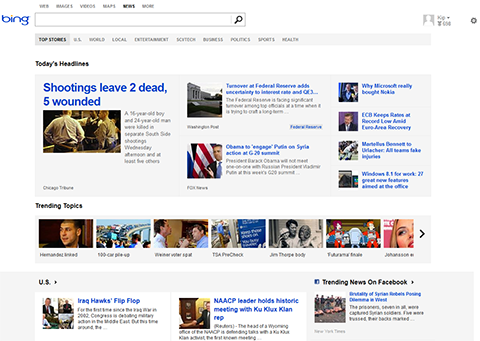 But the Bing News update is about more than just a new look. If you've ever tried to follow breaking news about a fast moving story, you'll know that the mainstream press sites often aren't able to keep up. Sometimes the first source of breaking news comes from Twitter or Facebook, and Bing pulls trending topics based on tweets and likes into the News page. Bing News also uses its Satori technology that drives Bing's Snapshots to highlight people and places appearing in the news in a new Trending Now section.
You can check out the new Bing News at www.Bing.com/News
This entry was posted in Bing and tagged Bing News. Bookmark the permalink.
---