So now that everybody is using the leaked Wave 3 Milestone 1 build, (oops we can't talk about that) and Microsoft employees are using the latest Milestone 2 daily builds, we thought it was time to just cut to the chase and look at what we expect to see come final release (or M3 for those keeping count). As always, this may change, so just think of it as a taster of what is to come.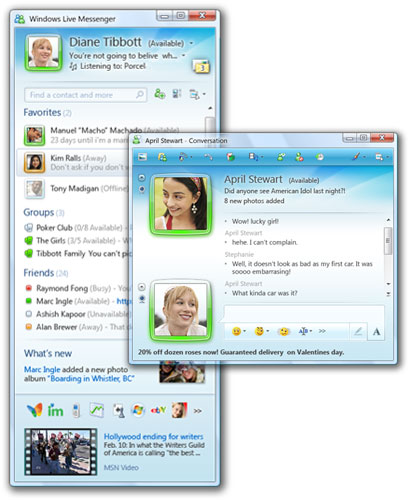 Here's what's showing up for the first time in these pictures.
Personalisation – We've talked about the new Wave 3 header before, but what we haven't really talked about is how it can be personalised. With Wave 3, the header allows for theming across Windows Live using "scenes", meaning that the UI you see in Messenger is also the UI you see on the web. As the image on the right shows, users can select their own background image – maybe its time for some LiveSide themed screenshots? :)This was discussed in one of our first ever interviews with Phil Holden over 2 years ago, so its great to see this finally come to fruition.
Simplified header: As well as having the new Wave 3 UI, the header at the top of the contact list has also had a redesign, removing a lot of the clutter. Gone are many of the buttons like Windows Live Call, Windows Live Today, Spaces, Mobile messaging etc, leaving just a simplified Hotmail notification icon on the right hand side. This is something we're not so surprised about, we heard a while ago that usage of these extras was very low (think <1% of all users). Here's the Messenger v8.5 header for comparison.
Improved Personal Status Message (PSM) – The PSM was first introduced in Messenger v7 along with the music PSM, showing your contacts what you are listening to. Since then not much has changed, despite some intrepid investigators noticing that there are Office and Games icons contained within Messenger for use in this area. With Wave 3 this upgraded PSM allows users to show both their regular status and music updates at the same time.
The new buddy icons – There's two parts to this. The most obvious point is the removal of the messenger buddy icon to be replaced with a coloured tile. Then there's also the new new online presence indicator, which both colours the tiles and surrounds display pictures in the form of a glow. See the Favorites at the top of the contact list for an example of this. Presumably green is available, orange is away and red is busy – could we also see this implemented at the top of the new Wave 3 header for online services?
The "What's new feed" – This is my pick for underrated killer feature. Much like the existing Spaces homepage and the Facebook news feed, this displays notifications showing what your contacts are doing. Check out what playlists your Zune friends have made, or what files they've added to Skydrive for example. This should drive cross-platform integration in a big way, and turn Windows Live into a truly cohesive web platform. Can you tell I like this? See also the individual contact feed in the conversation window showing new photos are being shared online.
Tabs – No not the kind you chat through, the kind that links to other online services which Microsoft wishes to promote. These have been moved from the side of the contact list down to the bottom, just above the advertisement, saving screen real estate and making them less intrusive.
We ran through some of the other new features already in our first post about Messenger Wave 3, here's a quick summary:
Favourite Contacts – these are the contacts you are most interested in. Positioning this special group of contacts at the top gives you at-a-glance information about their status and activities
Groups – Allowing groups of contacts to communicate with each other through Group IM, this update takes the existing multi-party chat functionality to a new level. Of course it also opens up others scenarios such as sharing files and photos.
PhotoShare application – This is a new application that allows users to transfer photos to their contacts for viewing. The main part of the conversation window shows a large preview for one of the photos, with the right hand side column showing smaller previews for the upcoming photos
Note as we mentioned right at the start of this build, the chatter online is that current internal builds are at M2. Logically if these show the M3 and expected final UI, they must then be mockups. This means there may be some tweaks before the final release, but all being well it should look very similar.