Having told you about what's coming in Messenger, Mail, Movie Maker and Photo Gallery, it's now time to cover the next one in the series: Windows Live Writer. Let us start off with a screenshot for you: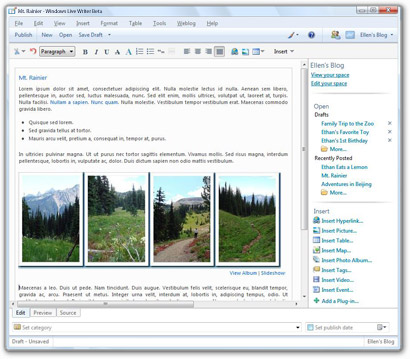 We've noticed on the right pane that you can now insert "Events" (Windows Live Events?) and "Photo Albums" into your blogs. From the screenshot it's already showing what it will look like when you insert a Photo Album into your blog post – it even includes an option for slideshows.
The next screenshot shows that Windows Live Writer now supports directly uploading videos onto YouTube! Also take note of the tab "From Video Source" – the current version of Writer only mentions "From Soapbox", meaning the new version will support inserting videos from other video sources other than Soapbox as well. Keep in mind that Movie Maker will also support uploading videos onto MSN Soapbox, YouTube and other video sharing websites.
Thanks to Picturepan2 from LiveSino again for the info!