September, 2008
The Microsoft Affiliate Network is apparently willing to pay up to $2.50 per Windows Live Toolbar download, according to an email acquired by Valleywag. In the scheme, affiliate Marketer Kowabunga would take on publisher affiliates for a fee, …
Ok so admittedly we're trying out some of the features of Community Server, just to see how they've improved in CS 2008. Haven't quite figured out if we can host the …
As you might have noticed, we've made some more changes on our site – mostly to make better use of the capabilities of Community Server 2008.  Included in the new version are provisions for "widgets", which we've added to …
Earlier this week Apple held an event to announce the new lineup of iPods, an event which has been breathlessly anticipated in years past. This year, reaction was lukewarm, and the stock price dropped 4% immediately after the event. This …
You know what they say: "two heads are better than one". The same is true for inquisitive users, as the comments to yesterday's post on the new Windows Live Wave 3 betas showed.
First up was luisfelipe, who found an …
As I already mentioned in my Windows Live Translators post, the new Windows Live Messenger Translation Bot (Tbot) has [email protected] as its Messenger addy. If you still have the prototype, [email protected], on your list it's time to say …
Ina Fried at CNET News is reporting that Microsoft and Research in Motion are set to announce a deal to "make it easier for BlackBerry users to reach Microsoft's Live Search". The announcement, reported to be coming on Thursday, will …
Want to show off your route along with your position on a Virtual Earth map? Take people on a tour with you without them physically there? All possible if you have a Windows Live Mobile phone with GPS. Chris Pendleton, …
A couple of weeks ago we started noticing an interesting referrer popping up in the stats for some of our posts. Turns out Microsoft moved their Wave 3 services from the dogfood servers onto beta servers, and as a result …
One of our LiveSide readers, Pradeep, came across this Microsoft service. Thank you for notifying us Pradeep.
Microsoft® Phone Data Manager Beta is an application that is designed to take away the worry of losing data on your
…
Photosynth just got its second update:
Improved upload success rate. This update should significantly reduce the number of synths failing with error code "0xA000000B". The problem happens when a file is currupted on it's way to storage. We've
…
A day late on this one, but congratulations anyway to the Microsoft Research Translation Team for making the transition from a third party translation technology to going "in-house".  From the MSR-MT blog:
Translation now fully powered by the Microsoft
…
While Steve Jobs, his health, and a new slew of iPods dominated the tech news today, Microsoft tried to make a bit of a splash as well.  Zune is getting a new color and some new capabilities (including expanded sync …
Having told you about what's coming in Messenger, Mail, Movie Maker and Photo Gallery, it's now time to cover the next one in the series: Windows Live Writer. Let us start off with a screenshot for you: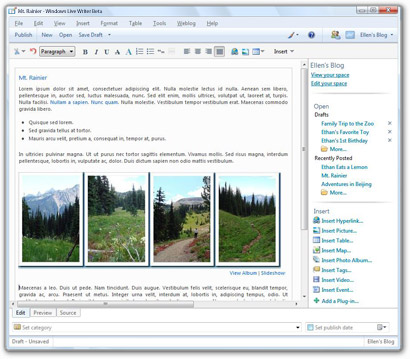 We've noticed on …
Good thing our friend Long Zheng is an accomplished lurker, as his annoying persistent hanging around the Live Mesh guys at Microsoft's Tech Ed Australia paid off last week.  Long got what we think is the first public look at …
As some of you may have noticed, our RSS feed has been a bit weird this past week, not matching the stories posted on the site. This is now fixed (fingers crossed), but means those lazy RSS readers like myself …
You've heard it at LiveSide (and LiveSino) first, that Windows Live Photo Gallery will feature facial recognition in its wave 3 release. Then we saw a mocked-up screenshot of how it may have looked like. Microsoft then helped us confirm …
As we noted the other day, Live Mesh had a slight issue if you stopped syncing a folder. Well, the Live Mesh team have issued an update that fixes this:
Fixed issue where deleting a Live Mesh folder on one
…
Keiji has posted on the Messenger developer blog that they have reached A billion requests a month with Windows Live Presence API.
Since then, a growing number of sites like Daum in Korea, and applications like the Windows Live
…
We first told you about Movie Maker moving over to Windows Live back in March, and our old pal Bill Gates confirmed it to Todd Bishop of the Seattle PI at the end of June. Movie Maker, up until …