If you've been following along at home you know that LiveSide, with the help of IDesignYourLogo.com (who are on a bit of a hiatus recently), came up with a new logo earlier this year.  You also may remember that some time ago we gave away LiveSide laptop (or whatever) stickers, mailing a couple out to basically anyone who asked.
Well we're at it again!  We went back to LightningLabels.com and had them produce some 2" square "Earthfirst PLA (Polylactic Acid – a biopolymer made from corn rather than petrochemicals) labels, which look like this: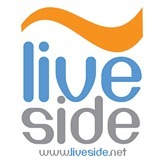 We actually looked at setting something up in Facebook to be able to handle your requests, but didn't find an app that allowed us to give something physical away for free, so we'll do it the old fashioned way: Send us your name and postal address, and we'll send you a pair of stickers!
This time however, and since we're now following you on Twitter if you're following us, you can either email us at [email protected] – subject: "Stickers, I want some!", or DM us on Twitter with your name and postal address.
This isn't any kind of a trick – we promise we won't use your address for any purpose other than sending you some stickers.  We may try to put some pins in a map again, but we won't identify you or expose your address, city/country only.  If you're uncomfortable with that, well then no stickers for you, but no hard feelings, either.  We'll pay the postage, and hopefully get them out in a timely fashion, we're sending a few out to some early birds responding to our tweet today.
So if you want some stickers give us a shout, and thanks for reading LiveSide!
(Edit: yes we're sending out internationally! – no US bias here

)