October, 2010
One thing we learned this week at PDC, Microsoft is All In, all over the place.  This year, they've been All In with Azure and the cloud..
"For the cloud, we're all in," said Ballmer during an address and
…
FourSquare and Windows Live Photo Gallery have teamed up in a bit of a pilot project to help you find great places to take photos, starting in 3 US cities: New York, San Francisco, and Seattle.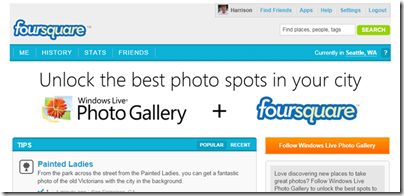 Start by following Windows …
This morning Dean Hachamovitch announced a new tech preview of IE9, complete with CSS3 2D Tranforms, "and a whole lot more".  However, like the IE9 tech previews before it, this latest preview is meant to show off some new tests …
We're sitting in the Microsoft Conference Center listening to Steve Ballmer, Dean Hachamovitch, Scott Guthrie, Bob Muglia and others talk about the latest in Microsoft's developer platforms, including IE9, WP7, and Azure
A new platform preview of IE9, Platform Preview …

Maybe because we don't have to travel for this one, or because we're not expecting big Windows Live news, but this PDC has kind of snuck up on us.  Starting Thursday morning in Redmond, Microsoft will be hosting the first …
How do you find that top iPhone app you are looking for? There are over 300,000 iPhone Apps to wade through today! Fear not, Bing is making it easy on you. They've created the top iphone app gallery in …
Last week Steve Ballmer announced that Ray Ozzie would be stepping down from his position as Chief Software Architect at Microsoft, and today , Ozzie published a memo he wrote to "Executive Staff and direct reports", entitled "The Dawn …
Today Messenger for Mac 8 came out of beta! It will be available (soon) as part of the Office for Mac 2011 suite, and is also available as a free standalone download.
Messenger for Mac 8 is free and …
By now you should all have the latest Hotmail update announced back in September 2010. As we mentioned last week, unfortunately the long-awaited full-session SSL (or HTTPS) feature did not make the cut in this update. We know that …
Ken Levy was a Visual FoxPro MVP, went to work for Microsoft where we met him, left again, and has been busy on a number of projects ever since.  One of those projects is "CodeCast", a podcast for …
The Windows Phone Developer Tools just received an update.
The October 2010 Update includes:
Windows Phone Capability Detection Tool – Detects the phone capabilities used by your application. When you submit your application to Windows Phone Marketplace , Microsoft performs
…
Windows Phone 7 became available for sale today (Oct. 21) in Europe, Australia and elsewhere (US sales are set to begin on Nov 8), and at least some Australian consumers had a hard time finding the new phone to buy, …
The first Windows Phone 7 device went on sale in New Zealand earlier today, and should now be available to customers in 10 other countries. Coinciding with the launch today is the availability of the "official" Windows Live Messenger …
The first Windows Phone 7 devices are in the hands of consumers now: the launch has started. New Zealand was first (hey they are ahead in time – time zones) and today people in Australia, Belgium, France, Hong Kong, Ireland, …

Microsoft announced their new Office 365 cloud service yesterday which combines Microsoft Office 2010, Office Web Apps, SharePoint Online, Exchange Online, and Lync Online into a single bundle for small businesses, enterprises, and educational institutions. Digging deeper into the FAQs …

Microsoft announced today a beta trial of a new hosted suite of services, dubbed Office 365.  The new suite combines Office Web Apps, SharePoint Online, Exchange Online, and Lync Online into a single bundle either for small businesses (less …
Eric Larsen and his team have completed the third, and final, leg of the Save the Poles Expedition. Late last week he made it up to the summit of Mt. Everest.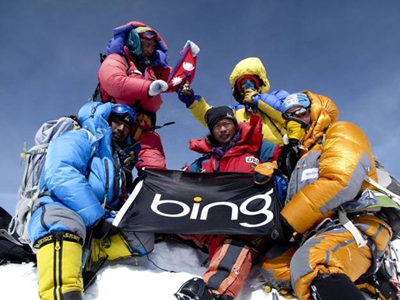 Eric Larsen and his team on …
Last week, Microsoft FUSE Labs had made some significant improvements to Docs.com since their August update as stated on their recent blog post. Here's what was updated in the recent release:
Full Text Search and Social Document Ranking
In …
Last month Microsoft announced a string of updates to be rolled out to Hotmail users within the next few months. The updates included Facebook chat support within Hotmail's web messenger, sub-folders support, increase in attachment size limit to 25MB, new …
We're still working through some details of our move to WordPress, but there's more to LiveSide than just new themes, and we've got some interesting tidbits to report.  This one comes to us from our friend Nikhil in India, who …