On Monday, October 11, Microsoft and AT&T are holding what has been described as a "launch party" for Windows Phone 7 at an event in New York City:
On October 11, Microsoft CEO Steve Ballmer and Ralph de la Vega, President & CEO of AT&T Mobility and Consumer Markets, will host a joint press conference in New York to discuss the latest developments for Windows Phone 7. View the live webcast here on Monday at 9:30 a.m. EDT.
(the link currently goes to a Windows Phone 7 highlights video, but will be updated on Monday morning.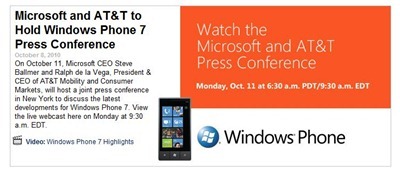 In the US, October 11 is the Columbus Day holiday, so if you want to celebrate by getting up at 6:30am (here on the west coast) and watching Steve Ballmer try and recoup his lost bonus, here's your chance!