Last week, Microsoft FUSE Labs had made some significant improvements to Docs.com since their August update as stated on their recent blog post. Here's what was updated in the recent release:
Full Text Search and Social Document Ranking
In the August update, Docs.com introduced the ability to search for people, pages and tags. In this release, Docs.com now offers full text search within your and your friends' documents, and even within documents shared in the public. Not only that, but Docs.com will also rank them according to several social criterion: the relationship of the author to you on Facebook (your friend's documents gets ranked higher), and how many "Likes" the document has received. Pretty useful stuff!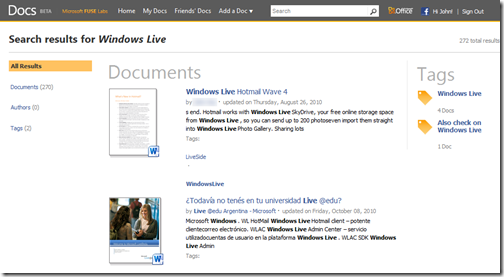 Support for PDF Files
We haven't seen this before, but the Word Web App on Docs.com now support viewing of PDF files that you've uploaded to the site. We wonder when this functionality will come to Office Web Apps on SkyDrive. You can check out Ray Ozzie's Windows 1.0 Press Kit, in PDF format, on Docs.com. Remember though, that Silverlight is required for this functionality. Here's a screenshot: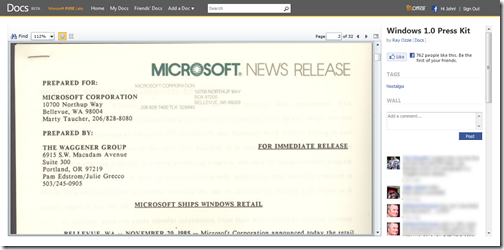 User-Generated Templates
So your friend saw a template you used on your document that they'd like to use? Docs.com now supports an advanced sharing function which allows other users to use your document as a template. Simply check this option when sharing your document, and your friends will be able to use your document as a starting template: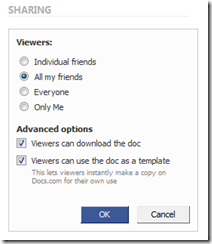 Bulk Upload powered by Silverlight
Just like Windows Live SkyDrive, Docs.com now supports bulk uploading via Silverlight. Simply drag and drop your documents into the upload area and they will be uploaded onto Docs.com automatically – no additional add-ons required (except Silverlight 4.0).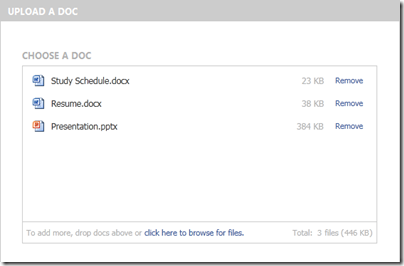 It seems like Docs.com is really getting serious with its frequent updates and new functionalities. This makes us wonder if any of these will be translated to Microsoft's own Windows Live SkyDrive – in particular for things like PDF and XPS support in the Word Web App as introduced in this update. The Office team is making an announcement today – however no further details were given yet. We'll keep you posted here at LiveSide!
(Thanks to Picturepan2 for the heads up!)