FourSquare and Windows Live Photo Gallery have teamed up in a bit of a pilot project to help you find great places to take photos, starting in 3 US cities: New York, San Francisco, and Seattle.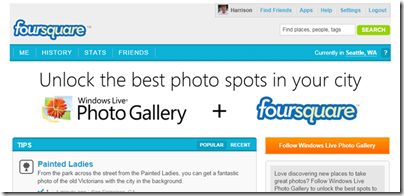 Start by following Windows Live on FourSquare, and you'll be provided with tips from some local expert photographers, either by checking the Windows Live page on FourSquare, or just getting pop up tips as you approach their selected spots. You can learn more about Windows Live Photo Gallery and FourSquare on Harrison Hoffman's Inside Windows Live blog post.
Great job, Harrison!