October, 2010
Steve Ballmer has just taken the stage, and we'll be updating this post with Windows Phone 7 news throughout the morning.  While the opening remarks get going, one bit of news from earlier this morning, the Zune software has been …
At 9:30am Eastern Daylight time, Microsoft is set to take the wraps off its long awaited Windows Phone 7, and we'll be getting up early to follow along as Steve Ballmer and Ralph de la Vega of AT&T announce the …
While we've seen plenty of screenshots showing what the "Find My Phone" feature of the upcoming Windows Phone Live service looks like, there had been almost no leaks of the actual Windows Phone Live interface. Well this seems the case …
On Friday afternoon word got out that Microsoft has shuttered Live Labs, the incubation project that brought us PhotoSynth, SeaDragon, Pivot, and more, "transitioning" the group to Bing.  The Live Labs website has been shuttered, too: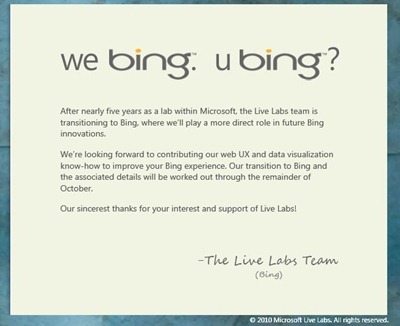 Live Labs' founder Dr. …
On Monday, October 11, Microsoft and AT&T are holding what has been described as a "launch party" for Windows Phone 7 at an event in New York City:
On October 11, Microsoft CEO Steve Ballmer and Ralph de la Vega,
…
If you've ever been to Microsoft, the lobby of most if not all of the buildings on campus contain some nice artwork, some comfortable chairs and couches, and a stack of copies of Directions on Microsoft.  The "independent IT …
To celebrate the release of Windows Live Essentials, there's a joined Windows Live/Bing Photo Contest to highlight Windows Live Photo Gallery.
Photo Gallery is the best place on your PC to organize, edit and share your photos and
…
Tonight, Robert Scoble tweeted a single sourced rumor that Mozilla is announcing that Bing will be added as a default search engine in Firefox, as early as tomorrow (Wed Oct. 5).  To add some credence to the rumor, on Sept …
When the IE9 beta launched last month, one of the features the IE9 team showed off was Pinned Sites and Jump Lists, using Hotmail as an example.  Only the Jump List for Hotmail wasn't quite yet ready.
So now the new Windows Live Essentials has been released, you want to give it a go. But then you realize it will only run on Vista or Windows 7 and you have….Windows XP! Now what? You can of …
Thanks to a tip from Pradeep, Microsoft has confirmed with SearchEngineLand.com that Bing xRank has been discontinued. In fact, if you visit http://bing.com/xrank now, it will redirect to the Bing homepage. Here's a screenshot of Bing xRank from the Wikipedia …
This week Joe Wilcox at BetaNews hit Techmeme with news that a mere fraction of the millions of potential Spaces migrations might actually happen, as many Spaces blogs haven't been kept current, and Microsoft played a bit of a game …
Today is an award day for the Microsoft MVP program, and we're very proud to announce that our own Sunshine, Cornelia Koopmans, and our good friend PicturePan2, Yan Zhu from LiveSino.net, have been awarded Windows Live MVPs for …
Page 3 of 3
« Previous
1
2
3