Windows Phone 7 has only been on sale in the US for a day, and in Europe etc. for a month, but more and more app developers are starting to come on board.  The latest is Jackson Fish Market, an independent shop in Seattle run by ex-Microsoft design guru Hillel Cooperman.  Today, JFM launched two new exclusive Windows Phone 7 apps, with some nice things to say along the way:
We're simple software folk here at Jackson Fish Market. We're not perfect, but we're trying hard to make nice stuff that people like to use. And when a new platform comes along that people have worked hard on, we're happy to give it a shot. Luckily, the new Windows Phones from Microsoft are not just a result of hard work, but a pretty impressive first effort at reimagining the mobile platform from Microsoft. This new rendition has the benefit of a bunch of solid Microsoft technologies (Silverlight, XNA, etc.) at its core, and the UI is slick, innovative, and frankly… different. It's not a knock-off. And that's something we respect.
The first of the two apps, Hush Hush, is a personal diary done in the usual beautiful Jackson Fish Market way: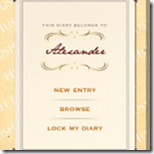 and the second, the Kitchen Toolkit – Cooking Helper, is a WP7 enabled swiss army knife of tools for the cook, including a timer, a unit converter, and two meat cuts charts, for beef or pork: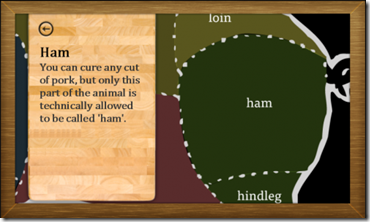 We've noticed others jumping on board the Windows Phone 7 app bandwagon, including some right in our own neighborhood

, more coming soon!