Coming today to Windows Live Messenger 2011 in the US, UK, France, Canada, Spain, Mexico, Brazil, Italy, Germany, the Netherlands, and Turkey: The Messenger Game Tab.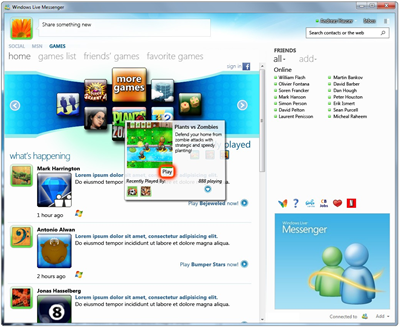 The games tab UI will be localized in all of these markets, but the games themselves will only be in English. More markets will be added later this year.
The games tab centralizes all your gaming activity on Messenger in one view, where you can connect to your Facebook and Messenger friends and add to your casual gaming with social elements like leaderboards, friend feeds, and game updates.
You can control what and how you share from within the gaming experience. You can invite friends to play with you side-by-side within the conversation window, or you can play solo, and then challenge your friends afterwards when you post your high score.
In the tab you can also quickly see which friends are online playing, and what their favorite games are, so you can join them in a game. You can even video chat while playing with a friend and see their reactions in real-time.
The new Messenger games tab is built with the expertise of the Xbox LIVE Services team at Microsoft. As such the launch of games in Messenger marks an important collaboration between Windows Live and Xbox LIVE that will continue to expand. Along with the new Messenger games tab, today you'll find a new MSN Games preview, an updated Bing gaming experience, and a new online Games for Windows Marketplace. These will all be rolled out throughout the day today too.
The online gaming properties (MSN, Bing, Messenger) are connected by a new feature called the Microsoft games hub, so no matter where you play, you will find a similar gaming experience.