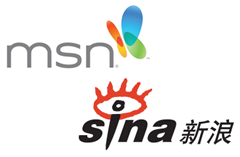 While Microsoft announced back in September that they have partnered with WordPress.com to migrate all Windows Live Spaces over, those users in mainland China missed out – as WordPress is inaccessible in mainland China due to government censorship. In fact, mainland Chinese users had been left out of many global Windows Live partnerships, such as the Facebook chat integration and the (once-upon-a-time) Twitter connected services, thanks to the Great Firewall of China. However, while many "mainstream" social networking websites like Facebook and Twitter are blocked in mainland China, the 420-million strong online population have adapted by created their own version of the popular social networks and micro-blogging websites. The problem is, Windows Live have never partnered with these localised services to integrate with their "Connected Services" portfolio.
Announced on November 11, the partnership between MSN China JV and SINA Corporation (which runs Sina.com – China's largest infotainment web portal) is the first time Microsoft bringing localised Chinese content and social networking services to Windows Live users. According to their official statement, the partnership will involve collaboration in the areas of blogging, micro-blogging, instant messaging, localised content, and mobile communication. Specifics include:
Windows Live Spaces users in mainland China would be able to migrate all their content directly to Sina Blog
Updates on Sina Blog and Sina Microblog (similar to Twitter) will appear on the Messenger Social feed using Messenger Connect
Users can login to Sina Blog and Sina Microblog using their Windows Live ID, and both Sina Blog and Sina Microblog  will integrate Windows Live Web Messenger to their website using Messenger Connect
With Messenger Connect, the user's presence on Windows Live Messenger can also be shown on their Sina Blog and Sina Microblog. If the user permits, visitors to their Sina Blog and Sina Microblog can directly chat to the user if he or she is online
Users will be able to quickly "Like" or "Share" contents on Sina.com and MSN China's web portal with their Messenger friends or post them to Sino Microblog
Localised content on Sina.com such as news and infotainment will also appear on MSN China's web portal
In addition, MSN China will also offer a new micro-blogging service – MSN Microblog, which is powered by Sina Microblog. However, this is not the first time MSN China is entering the micro-blogging field. Back in November 2009, MSN China launched "MSN Juku", a Twitter-like service, however it was widely criticised to have plagiarized from another micro-blogging website Plurk. MSN Juku survived for only two months before Microsoft indefinitely suspended the service and confirming that 80% of the code was copied from Plurk by an external contractor developing the service.
While this partnership is welcoming news for Microsoft, it is unlikely that it will have much impact on China's most popular instant message service – Tencent QQ, which owns over 75% of China's IM market and 60% of the Chinese Mobile IM market.
(Thanks to Picturepan2 @ LiveSino.net for the news)