Now that Windows Live Wave 4 has been fully rolled out, it's quite obvious that some services never made the cut with no mention of any updates whatsoever – one of this is Windows Live FrameIt. It appears that the Windows Live team has silently updated the Windows Live FrameIt Help Center page with the following message:
On December 15, 2010 FrameIt will shut down and the content you manage with the service will stop being delivered to your digital frame.

Rest assured that none of the photos, videos, or other content FrameIt delivers to your digital frame will be deleted. The photos and videos you have on Windows Live Photos and Windows Live SkyDrive will still be available, but to view them with your frame, you might need to use another service.

For information on how to set up your digital frame with another service, review the instructions that came with your frame, or visit the manufacturer's website.

Thanks,
The FrameIt team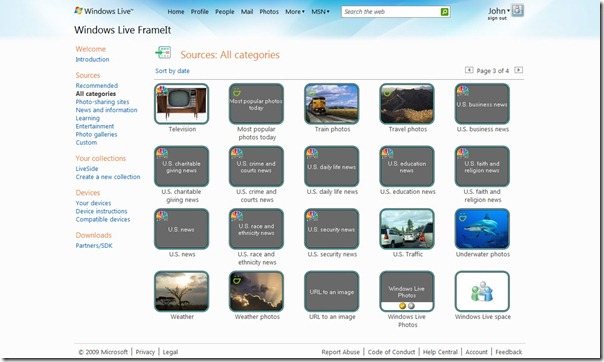 For those who doesn't know, Windows Live FrameIt was released as a beta service on July 30, 2008, back in the Wave 2 days. It allows users to set up different feeds on the web, such as contents from Windows Live Photos, Flickr, Facebook, or any RSS feed, to be displayed on their internet-enabled digital photo frames. It once had a promising future, and even hinted at Live Mesh integration. In fact, in one of the first Wave 4 screenshots leaked, we noticed that the Windows Live Devices homepage hinted at some integration with digital photo frames. Unfortunately, Windows Live FrameIt will now join the deadpool as one of the many Windows Live services that never made it out of the beta stages.