We already told you that you can find and download iPhone apps via Visual Search. Now you can also find your Windows Phone 7 Apps the same way via the Bing Visual Search Gallery for Windows Phone 7 apps. If you are in the US or UK that is, else you can try it by clicking the US redirect link you get when it is not supported in your market.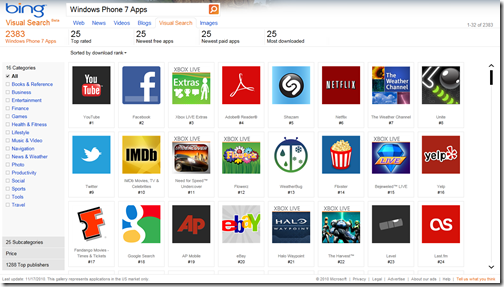 Just like for the iPhone apps, you are provided with several filters. Found what you are looking for? Click on the app and you will be led to the details page and a direct link to Zune Marketplace, where you can download the app to your PC and wirelessly sync to your phone via Zune.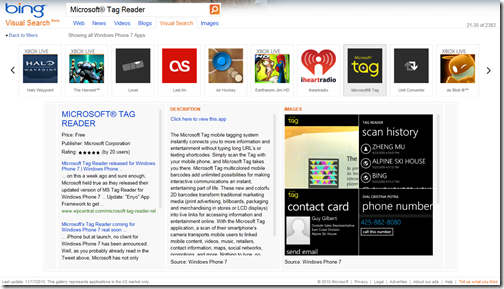 Why they did not integrate Microsoft Tag as they did with the Visual Search for iPhone Apps is beyond me, after all they do have Microsoft Tag Reader for Windows Phone 7….
Update: Wow yes, Microsoft must have been reading my post! They've integrated Microsoft Tag in Visual Search for Windows Phone 7 Apps now. Thanks Microsoft! 😀