A blog post on the Bing Search blog this morning points out some new features in Bing Movies (although not, apparently, a way to embed MSN Video files into WordPress), offering up a pretty seamless experience from searching for a film, to reading reviews from the top reviewers and users alike, to viewing trailers and checking out showtimes:
This week we are releasing an update to Bing Movies, which introduces a redesigned interface that streamlines how you search and select  the movies you're looking to watch.  Bing Movies organizes the top movie information within the new interface letting you go a step deeper based on your needs:

Showtimes: Our new Showtimes page makes it incredibly easy to see which movies are playing at theatres near you.  Instead of having to go from theatre result to theatre result trying to find movie times, with Bing Movies you pick a movie and are served the showtimes at the closest theatres in one snap.
Trailers: The new Trailer page provides you with the latest trailers, clips and interviews at a glance.
Reviews:  The Reviews page combines reviews from top critic outlets like the NY Times and LA Times with those from users, giving you a quick and comprehensive way to determine whether the movie is worth the price of admission.
As you can see, there's a menu bar across the top offering up quick access to each of the features: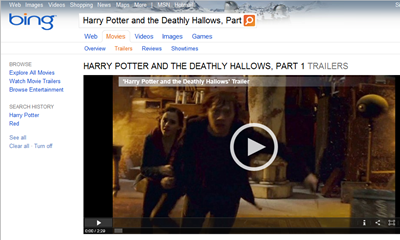 And it looks like Bing has some more announcements coming up, too.  We've been invited to a "Bing Search Summit" on December 8th in San Francisco, featuring demos of "key new features".  Along with the Silverlight FireStarter on December 2nd, where Scott Guthrie will talk about the future of Silverlight, December is shaping up to be an unusually busy month for news, yay!