More than a month ago, Microsoft announced the new Office 365 – the cloud-based version of its Office, Exchange, SharePoint and Lync solutions, which is intended to replace the current BPOS, Office Live Small Business, and [email protected] offerings. While most of us are still on the beta waiting list, Paul Thurrott from Winupersite.com had the chance to play around with the new service: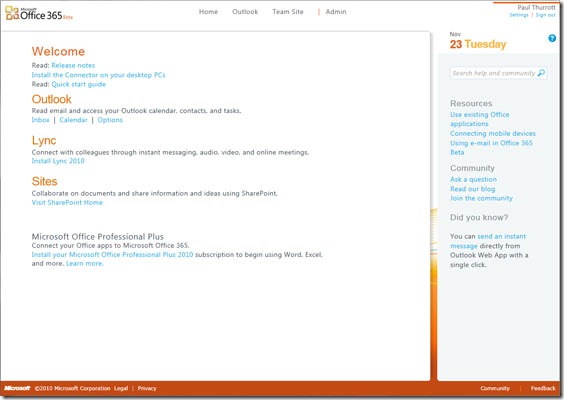 Users can login to the Office 365 Dashboard, as shown above, and access the web-based Outlook Web App, as well as Office Web Apps hosted on SharePoint (called Team Sites). Officer 365 also offers users to download to Lync 2010 client, Office Professional Plus 2010 (if using the correct license), and the Office 365 Connector which configures system components to work with Office 365. Here's an excerpt from Paul Thurrott's review:
The beauty of Office 365, of course, is that it aims to work equally well for the smallest of businesses–literally, a business of one–and the biggest enterprises, and everything in between. It's early days yet, and I've got months of testing ahead of me, but my initial impressions are all very positive. I was able to get an admittedly small domain up and running on Office 365 very easily. I suspect those in the trenches will make even shorter work of it.
You can check out Paul Thurrott's full review at Winsupersite.com. From the sounds of it, it's definitely a right direction for Microsoft in moving their Office solutions to the cloud. Let's hope it turns out well!