FUSE Labs is best known for their Docs.com project bringing Office Web Apps to Facebook users, and for those readers who had been following, they also started up Kodu, a very simple-to-use game programming language, as well as Bing Twitter (and Bing Twitter Maps) – which had been released and integrated as part of Bing Social. Little did we know that the FUSE Labs team had also been busy at work experimenting with some other new projects: Spindex, Project Emporia, SocialGadgets, and Montage. Below is an overview of each of the projects:
Spindex is a social media aggregator which brings together your entire social world all into one page. What's different about it is that it proactively analyses the trends in your social networks (such as Facebook, Twitter, and RSS Feeds) and provides an easy way for you to find related information from Bing so you can jump right in to your conversation with your friends. It even lets you keep track of the things you are remembering via Evernote – right inside of your Spindex page.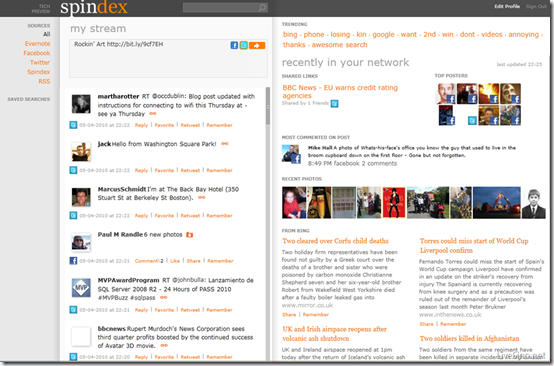 Project Emporia is a Silverlight-based social service that sifts through public Twitter streams to identify hot stories, categorizes them into topic areas and ranks them, and then presents them in a friendly UI, all without the need to sign-in. However, for Project Emporia to personalise the content for you, you can sign in to you Facebook account and vote on particular stories, improving the way Project Emporia "learns" using Microsoft Research's Matchbox Recommendation Technology.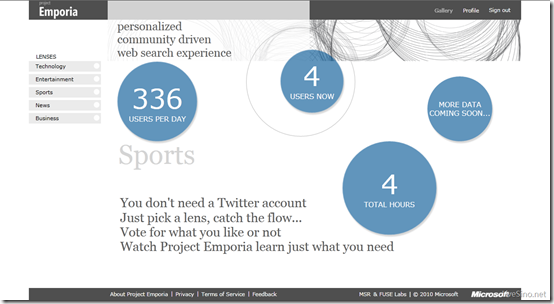 SocialGadgets are a set of embeddable widgets that visualize Twitter real-time data based on a given keyword and displays its volume of usage over time. Mentioned entities such as people, locations, companies and noun phrases are identified and visually represented and allows users to interact and explore relationships between topics.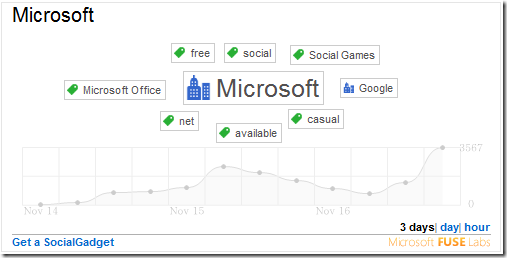 Montage is web-based service that lets users create and share a visual album of the topics on the web. Users can design their personal Montage around a topic by adding content that pulls information from a variety of sources including RSS feeds, Twitter, Bing News, YouTube, video and Bing Images. The Montage is always dynamic and constantly updated as content related to the topic is updated.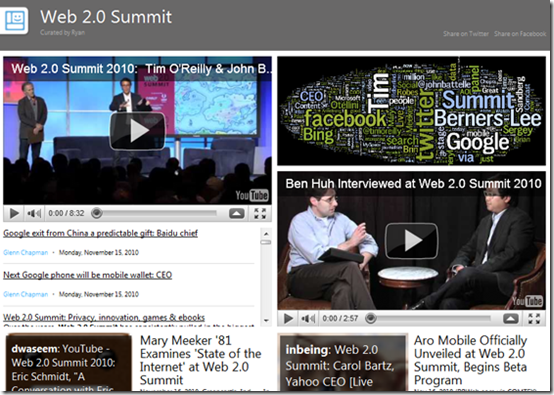 You can check out all the experimental projects by FUSE Labs by clicking here. It's quite an amazing achievement as the FUSE Labs was set up only a bit over a year ago by Ray Ozzie, amalgamating his own Rich Media Labs and Startup Labs, as well as Lili Cheng's MSR Creative Systems group, into a single lab focusing on social, real-time and media-rich applications. In fact, not long after Ray Ozzie's departure, FUSE Labs's General Manager Lili Cheng announced on Twitter that they are now back as being part of Microsoft Research. Looking at the way Docs.com had been constantly updated in the past year, and FUSE Labs had been bringing out over 9 projects already (with two already released as actual products), it seems FUSE Labs is definitely heading towards a bright future. Let's hope FUSE Labs won't face the same fate as Live Labs down the road. Keep it up!
(Thanks to Picturepan2 @ LiveSino.net for the screenshots!)