Whilst everybody is getting more and more into the Holiday spirit, MSN is already one step ahead. They are thinking about getting you into shape (after all those lovely Holiday meals?)! In partnership with Rodale, the authoritative source for fitness, diet and weight loss content, they've launched fitbie.

Fitbie is a diet and fitness site that offers advice on how to look, feel and live better by making the right diet and fitness choices.
Highlights of the new site and partnership include:
Personalized Information: Fitbie offers personalized content tailored to individual goals, whether it's losing 10 lbs, running a marathon or learning yoga.
Custom Meals/Fitness Plans: Fitbie features free two-week meal and fitness trial programs, including physical assessment and interactive tools, and advice from diet & fitness experts.
Operations: MSN will lead the advertising efforts for Fitbie and Rodale will lead editorial programming.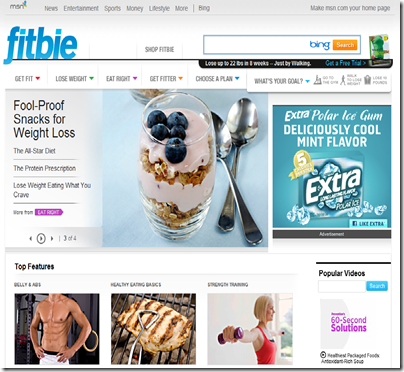 Fitbie is accessible at http://fitbie.msn.com, as well as on the MSN home page and editorial programs across the MSN network. Access to Fitbie can also be found across Rodale magazines and online properties.
More information is available at the MSN Blog.