Bing made news today, both for its "fall update" release of new apps for iPhone and Android, partnerships with OpenTable, GrubHub, and FanSnap, and deeper collaboration with Facebook, and also for a new set of search numbers from comScore showing more incremental increases for Bing's US search market share.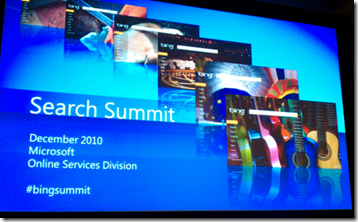 (photo credit Search Engine Land)
First, the comScore numbers.  ComScore, like the other web metrics sites, continues to try to cut through the "gaming" of search market share numbers (*cough* Club Bing), this time releasing numbers showing "explicit core search", which "excludes contextually driven searches that do not
reflect specific user intent to interact with the search results".  Anyway, using the explicit core search criteria, November US search market share shows Microsoft Sites gaining .3%, from 11.5% in October to 11.8% in November.  Here's the chart:
_______________________________________________________________
comScore Explicit Core Search Share Report*
November 2010 vs. October 2010
Total U.S. – Home/Work/University Locations
_______________________________________________________________
Core Search Entity            Explicit Core Search Share (%)
                              Oct-10    Nov-10    Point Change
Total Explicit Core Search    100.0%    100.0%        N/A
Google Sites                   66.3%     66.2%       -0.1
Yahoo! Sites                   16.5%     16.4%       -0.1
Microsoft Sites                11.5%     11.8%        0.3
Ask Network                     3.6%      3.6%        0.0
AOL LLC Network                 2.1%      2.0%       -0.1
_______________________________________________________________
*"Explicit Core Search" excludes contextually driven searches that do not
reflect specific user intent to interact with the search results.
ComScore breaks out Microsoft and Yahoo Sites, but notes that:
In order to accurately represent the continued evolution of the search landscape, comScore is providing insight into the share of algorithmic Explicit searches that are powered by Google and Bing, and branded as such to the consumer. Google's "powered by" share is composed of searches conducted at Google entities, as well as branded searches at AOL and Ask. Bing's "powered by" share is composed of searches conducted at Microsoft entities as well as branded Yahoo! entities.

In November, 69.2 percent of searches carried organic search results from Google, while 24.0 percent of searches were powered by Bing organic results.
It's unclear how much if any influence Bing's collaboration with the likes of Facebook are having on these numbers, but today's announcements showed a continued strong commitment to work with not only Facebook but also Google's Android and Apple's iPhone.
The first Facebook collaboration came a few months ago, and today Bing announced a continuation and expansion of featuring Facebook "Likes" (like the ones we use here at LiveSide, so help your friends out when they're searching for Windows Live info, and "Like" our posts!).  And the Facebook/Bing love affair sounds like it's just heating up.  Corporate VP Satya Nadella posted on the updates today at the Bing Search blog, saying:
It's an ongoing journey, to be sure. In October, for instance, we launched a new and exclusive collaboration with Facebook designed to make search more social and relevant to you. We have lots more in store as we find new and useful ways to let you bring your friends into Bing to help you make better decisions.
and at Silicon Alley Insider, Matt Rossoff expects lots more from Bing's exclusive deal with Facebook,  too:
Microsoft hasn't made much use of Bing's Facebook integration yet. But it is watching the social networking market very closely and finding that more than 100 million people click on Facebook Like buttons every day. Equally important, evidence is growing that users are more likely to use a friend's recommendation than a search engine like Google to discover relevant information online.

In 2011, look for Microsoft to begin pushing these social features more aggressively.
And although mobile search numbers aren't included in the comScore results, Bing has been and continues to actively pursue new mobile users, especially ones using iPhone or Android.  Of course Bing is built in to Windows Phone 7 (which actually may make it harder to update with new features than an iPhone or Android app), but Bing has a slew of new stuff for WP7's competitors (you know, the ones with the millions, and not thousands, of users).
More on that in the next post on Bing and mobile apps.