LiveSide received an email today from Product Manager (Evangelism) for Windows Live Harrison Hoffman today (gee that name sounds familiar!), wishing us, and by extension you, a happy holiday season.  Harrison lets us know that Windows Live will be at CES, and while we're not able to make it, if you're going to be in Las Vegas January 6-9 be sure to stop by and say hi.
In the meantime, there's apparently some sort of bizarre ritual where the new guys have to get dressed up in ridiculous costumes and make videos about Windows Live, like this one:
and then try to hang ornaments with giant blue gloves on: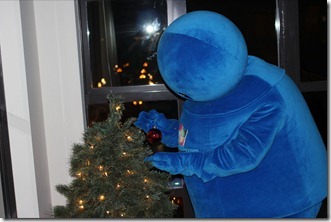 Anyway, Happy Holidays to you Harrison, and like you, we're looking forward to the new year!