2010
Who thought desktop gadgets were dead since the release of Windows 7 is wrong. Turns out Microsoft even released a new one on November 3rd.: Bing Image of the Day



What is it? It's a Bing Search box which utilizes …

Windows Home Server has been a much appreciated but perhaps under-used product, and its fans have been anxiously awaiting Version 2 of the product, code-named "Vail".  Well, maybe now not so much.  A blog post this morning on the Windows …
A blog post on the Bing Search blog this morning points out some new features in Bing Movies (although not, apparently, a way to embed MSN Video files into WordPress), offering up a pretty seamless experience from searching for a …
Last week Internet Explorer released the latest Platform Preview (#7), and boasted of some new SunSpider test results to go along, showing IE9 PP7 as the fastest browser available in terms of JavaScript, according to the SunSpider results.  Just to …
We already told you that you can find and download iPhone apps via Visual Search. Now you can also find your Windows Phone 7 Apps the same way via the Bing Visual Search Gallery for Windows Phone 7 apps.…
Bing Maps has rolled out a new look today to coincide with the "AJAX V7 Control", eliminating the need for Silverlight to view enhanced Bird's Eye map views.  Silverlight remains a big part of Bing Maps, powering Map Apps, …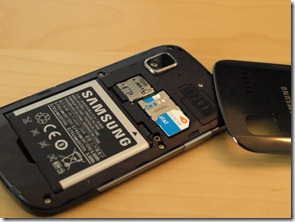 By now if you've been following the antics of Windows Phones, you've heard about the intricacies of Windows Phones and SD cards, and the warnings to wait until "Windows Phone 7 compliant" cards are made available to (at …
The IE9 team has announced today that they've released a new Platform Preview (meaning no UI), dubbed "PP7", on the 1 year anniversary of the first introduction of IE9 at PDC 09.  Since then, and specifically with the release of …
Now that Windows Live Wave 4 has been fully rolled out, it's quite obvious that some services never made the cut with no mention of any updates whatsoever – one of this is Windows Live FrameIt. It appears that …
No knowledge of C#, Silverlight or mobile development and developing Windows Phone 7 applications sounds appealing to you? No worries, you can still learn!
Channel 9 has just started a new series that teaches beginning developers with little programming experience …
There's a new Windows 7 + Windows Live website showing off Windows Live's capabilities in the cloud.
There's lots to explore on the site! As you can see the site is divided in 3 sections: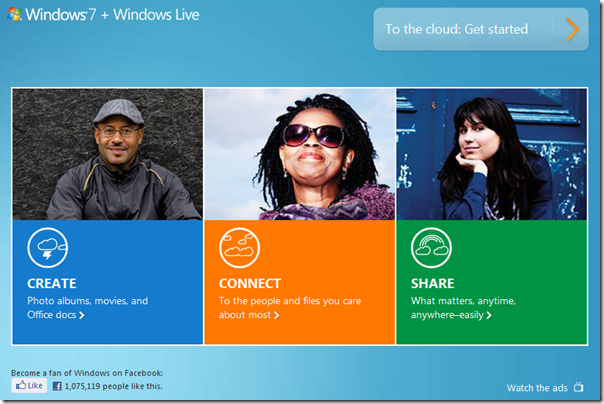 …
A big announcement today over at Facebook, with news of their new Messages functionality, including the news that users of Facebook Messages will be able to view Office documents by opening them in Office Web Apps from within Facebook:…
Coming today to Windows Live Messenger 2011 in the US, UK, France, Canada, Spain, Mexico, Brazil, Italy, Germany, the Netherlands, and Turkey: The Messenger Game Tab.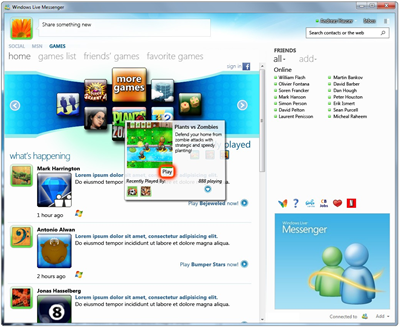 The games tab UI will be localized in all of these markets, but …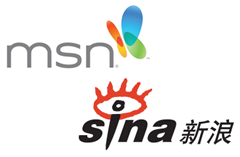 While Microsoft announced back in September that they have partnered with WordPress.com to migrate all Windows Live Spaces over, those users in mainland China missed out – as WordPress is inaccessible in mainland China due to government censorship. In fact, …
So you think that having Messenger on your PCs and Mobiles is not enough for you? Back in January this year, we reported that Microsoft is negotiating with TV manufacturers about delivering Windows Live services to internet-enabled TVs. Well here's …
Previously, when you want to share your documents on Docs.com, you can only share them with individual friends, and if you wanted to share with a group, you had to select the group members one-by-one. Facebook recently updated their …
Microsoft made a post on the Inside Windows Live blog today alerting users that there is a malicious worm currently trying to spread itself through IM networks, including Windows Live Messenger 2009 (Wave 3). Here's  an excerpt from the post:…
Some new numbers published yesterday by Compete.com may be surprising to some: although popular sentiment is that "everyone uses Gmail", the numbers don't bear that out.  Here's a pie chart of US internet traffic to web-based email clients for September …
"Just like an extra day of PDC, dedicated to Silverlight" is how Microsoft is billing a newly announced Silverlight Firestarter event complete with keynote by Microsoft Corporate Vice President Scott Guthrie entitled "The Future of Silverlight Starts Now";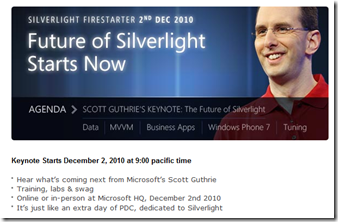 In case …

A report tonight from Engadget is apparently confirming the re-emergence of the ill-fated Kin One and Kin Two phones on Verizon, with an altered data plan, but still with Zune Pass functionality:
…we're hearing that the revised phones will be
…