Five years ago, on January 3rd, 2006, our good friend and current Microsoft Windows Live Evangelist Harrison Hoffman published the first of almost three thousand posts to date (this is post #2,892), welcoming you all to LiveSide.net. Now entering our 6th year (and third blog platform), we're happy and excited to be bringing you another year of the best in Windows Live news and information.
We're also happy to welcome our newest blogger, someone you're quite familiar with already.  Our friend and Windows Live MVP "Picturepan2", Yan Zhu, from Shanghai, China will be helping us out with some posts, even as he continues to manage LiveSino.net.  Sharp-eyed observers might have noticed his byline on his first post for LiveSide this past weekend, and you'll be hearing more from him soon. 
We first "met" Picturepan2 a little over a year after we started LiveSide.  We were approached by a high school kid from Shanghai asking permission to translate our posts into Chinese for a new blog he was starting.  He chose the name LiveSino.net, and has gone far beyond just translating our posts since he started in March, 2007, turning LiveSino.net into a well read blog on Windows Live and lots more.
Picturepan2 is a dedicated Windows Live enthusiast, an MVP who will hopefully be making his first trip to the United States to attend the MVP Summit next month (where we hope to meet him in person for the first time), and, of course, "a PC", as you can see from this picture taken at the opening of the Apple Store in Shanghai last year: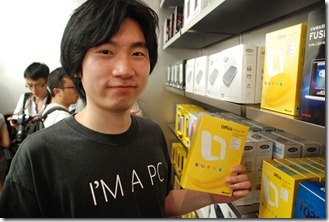 We're looking forward to our sixth year, lots more Windows Live, Bing, Zune, and Windows Phone news, and lots of surprises yet to be revealed.  Thanks for reading LiveSide, happy birthday to us, and wishing you all a great 2011!