According to an article appearing over at Anand Khanse's The Windows Club, The Windows Clubhouse will be shutting down this spring.  The marketing effort which was to feature blog posts by "club members" on Microsoft.com on topics related to Windows never really got off the ground after an early flurry.  The Windows Club quotes Social Media Marketing Manager Matt Bernardy about the closure (although with no attribution. We've confirmed that the information is correct):
 

Microsoft has made a decision to retire the Windows Clubhouse in Spring 2011. As Clubhouse was a launch effort around Windows 7, the Windows management team feels that this platform has been a great success and huge factor around Windows evangelism

That was very much due to all of the MVP participation. But as our users move from Windows 7 newbies to more seasoned users, we are creating a new platform around Windows enthusiasts that we feel better suits the community's needs. We have some ideas around how this platform should work but will be sharing more details in due course, says Matt Bernardy, Social Media Marketing Manager, Windows.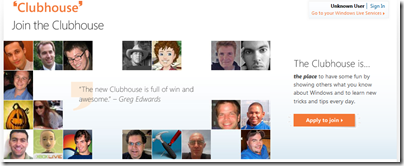 We wrote about the Windows Live Clubhouse back in August of 2008, when it was first announced.  The Windows Clubhouse was then (if we remember correctly) created as an "offshoot" of the Windows Live version, or they merged, or something.  To be honest we didn't pay it much attention, as the whole exercise was long on marketingspeak and lacking in execution, expecting club members to use a special tagging system and jump through numerous other hoops.  Some of the early club members enjoyed quite a jump in traffic for their featured posts, but after the first flurry nothing much came of the Clubhouse, and it wasn't actively supported, from what we could tell.
Anyway, if you're itching to study up on (correction:) Jamie Thomson's (Greg Edwards is featured on the join page)"Ten Secrets of Windows Live Wave 3", still featured on the Windows Clubhouse "join" page, you best hurry up, or else join us in a collective yawn on this one.