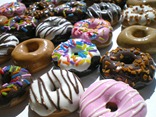 A rumor has started, apparently from some French Windows Phone enthusiast websites, that the by now long awaited Windows Phone 7 update, code named "nodo" (for no donuts) may appear as early as Monday, February 7.  The update is slated to bring copy/paste functionality as well as performance improvements to the some 2 million Windows Phones out there in the wild, or sitting on store shelves, or still at the OEMs, or whatever.
While we can't confirm the February 7 date, it seems to be a logical guess, as we know that the update is coming soon, and this would put the release a week before Mobile World Congress, where Steve Ballmer is slated to talk up Windows Phones (his keynote is scheduled for 4pm Monday Feb 14 Barcelona (CET, GMT +1) time).  It's also on a Monday, early enough in the week where any problems with the update procedure could be dealt with and still not ruin the weekend, something that we've seen to be increasingly important to "Softies".
To be honest we haven't been doing a lot (read: any) document editing on our Windows Phones, and can't say that copy/paste is a showstopper, although it has captured the tech presses imagination.  We are going to be interested to see the performance improvements, and who knows, maybe even a surprise or two thrown in.  We are however, good and ready for Microsoft to get this update released, get going with the marketing and sales of Windows Phones, and start making an impact in the fast moving smartphone market.  It should be a good week, however, if we get a Windows Phone update and an IE9 RC release within days of each other!