February, 2011
Brandon Foy, a post-graduate intern at Full Sail University in Florida, has created a website and posted his concept video ad, titled "We Love WP7"
[youtube_video]VHkPiU9YAQk[/youtube_video]
We don't have much other information on the video or the artist…
We've been trying to keep our Windows Live Calendar current with upcoming events, and it's definitely filling up as we head into spring.
First up is the Microsoft MVP Summit – LiveSide started when a group of us met through …

Google announced Cloud Connect this week, a free plugin for Microsoft Office that allows users to sync, edit and store Microsoft Documents in Google Apps, either by converting them to Google Docs, or leaving the files as Office Documents.  Microsoft …

An email reminder was sent out today by Windows Live to Live Mesh beta participants, reminding them that the beta will be completely shut down on March 31, and any data stored on the Live Mesh beta servers will be …
Bing already provides quick price predictions for some major US markets using its Farecast technology, but today they're introducing an even faster way to get predictions and quick flight cost information, this time right from within the search bar:…

What if, indeed.  What if Microsoft and its partners started showing off some of the cool and unique features of Windows Phone, instead of allowing the conversation to be dominated by talk of failed updates?  What if Microsoft spokespeople were …
In a blog post today, The Bing Team has announced that Facebook Like results for any of the URLs returned by the Bing algorithmic search results will now be included in US search results:
If your friends have publicly liked
…
Our friend Tom Warren at WinRumors.com has been busy scouring the interwebs for Windows Phone news, with updated information on some Windows Phone update problems, and an early draft of some upcoming Windows Phone commercials. 
We told you yesterday that …
Just received some new information about Bing Tiles, coming from a Microsoft spokesperson, and they were kind enough to send over some screenshots.  As you can see, the Tiles appear on the right, as Stefan Weitz whiteboarded, and …
The Windows Live Team sent out an email reminder today that Windows Live Spaces will be closing for good on March 16th.  The timing has been announced before, but it's getting down to crunch time if you're still using Spaces …
For the first time, an update for Windows Phone is being gradually pushed out to users beginning today.  The update doesn't do much except "update the updater", which apparently needs to happen before the long awaited "NoDo" update arrives in …
Microsoft announced today that "Facebook chat is available to Hotmail customers worldwide, wherever Facebook is available".  Hotmail began integrating Facebook chat into Web Messenger last September, but it was only available in 6 regions.  A few weeks ago, Facebook chat …
The first Windows Phone update is going to be pushed out to WP7 users beginning today, according to a blog post on the Windows Phone blog:
Starting today, some of you might see something new on your Windows Phone:
…
The sharp eyes of Robert McLaws have just spotted a new page on IE9's website www.beautyoftheweb.com: a teaser for something (epic! – oooh!) coming, and soon (at www.beautyoftheweb.com/#/unpluggedteaser)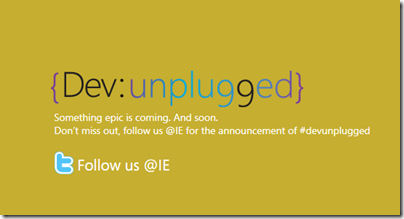 Just checked, and as of this writing there's nothing on …
Travis Pope, who runs ZuneSpring.com and is a Zune MVP, picked up on an announcement on the Zune Insider podcast from yesterday: Zune HD is coming to Canada.  The podcast, hosted by Matt Akers and Jessica Zahn from Microsoft, …
Microsoft just released the Release Candidate (RC) build of their upcoming Internet Explorer 9 on February 10, their official team blog is already gearing up for their next event – a special party to be held during the South by …
Bing is in testing to begin a wider launch for Bing Tiles, which will be interactive icons placed next to "authoritative" links in organic search results.  We first heard about Tiles in a video interview with Bing Director Stefan Weitz …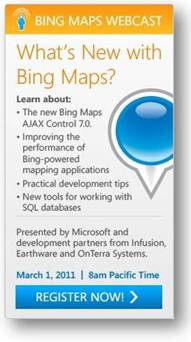 Bing Maps developers will discuss Bing Maps' latest features and development tips and tricks in a free 40 minute webcast at 8 a.m. PST/11 a.m. EST on Tuesday, March 1.
The webcast is presented by:
RICKY BRUNDRITT –CEO …
We just got done watching a "Whiteboard Friday" video segment from SEO software maker SEOmoz, with CEO Rand Fishkin in a lighthearted half hour with Bing Director Stefan Weitz, who start off talking about the paid links problems surrounding …
Bing just released their new-version toolbar that they're calling the Bing Bar, and as usual, even before installing it, as with any toolbar we had an instant negative reaction.  Toolbars, yuck.  They're slow, they take up valuable real estate, and …