Bing team is rolling out two new improvements to one of those Bing vertical search engines – Bing Travel, specifically, to Destination and Hotel pages which are parts of Bing Travel.
First is Bing Destination. Bing Destination landing page now is powered by Visual Search. Just like some other visual search galleries, you are provided with several filter options, and comparison capability among all these destinations.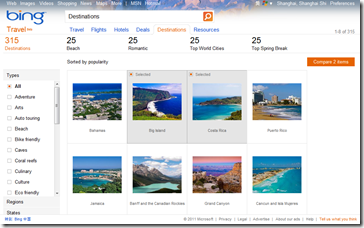 Select the cities and then click compare button. Bing compares multiple destinations with weather, hotels, flights, attractions, events and more side by side: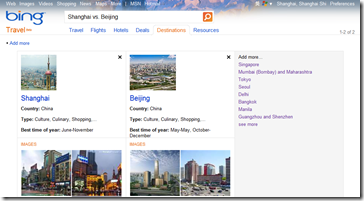 Bing Travel also updates its hotel search. Now you will find hotel Rate Indicator, which predicts when is the best time to book, along with maps, nearby businesses, user reviews and more relevant information on one page.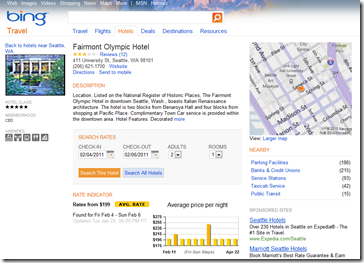 From my recent experience(planning a trip to the US for the MVP Summit), I think Bing Travel needs a trip planning or information organizing tool. As Live Labs is transitioning to Bing, I suggest that Bing team could make use of the discontinued Thumbtack, a tool to help user organize all hotels, places, flights and local information.