Well it's that time of the month when the US search market share reports start showing up, and first up this month is Hitwise.  They're showing some strong increases for Bing, and a decline for Google.  Here's the main chart, included in a Hitwise press release: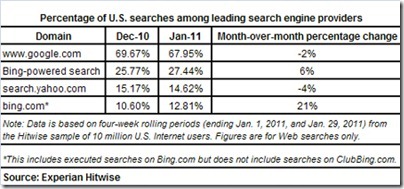 Bing US search share climbed from 10.60% in December to 12.81%, while Google fell from 69.97% to 67.95%.  "Bing-powered search", that is the combination of searches conducted on Bing properties and on Yahoo.com, rose from 25.77% to 27.44%.
In its report on the Hitwise findings, Search Engine Watch also notes that according to Compete.com, Bing.com has risen to the #6 spot in their list of Top 50 Websites, with 79,869,936 unique visitors (UVs) for the month of December.  Bing wasn't the only Microsoft web property to do well, according to a Compete.com blog post:
In other movement within the top ten sites, Bing.com leapfrogged Wikipedia.org to gain the sixth spot, and it closed the year with a 105.36 percent increase in UVs, by far the largest yearly growth among the top 50 sites.

Two other Microsoft-owned domains also posted growth for both the month and year — Live.com (3.12 percent M-O-M, 2.45 percent Y-O-Y) and Msn.com (3.36 percent M-O-M, 5.69 percent Y-O-Y).
While we don't have statistical evidence, we could take a guess and say that the holiday shopping season was good for Bing.  Like many other Long Tail phenomena, a small percentage of searches yield a large percentage of search revenue, and if Bing, through its emphasis on verticals like Shopping and Travel, is capturing even a small percentage of those lucrative searches from Google it could be having a noticeable effect on revenues.  No wonder Google is crying foul!