We just fired up Bing to look for a Nokia logo for our last post, and noticed what we think is something new on the Bing home page, a Facebook Like Button: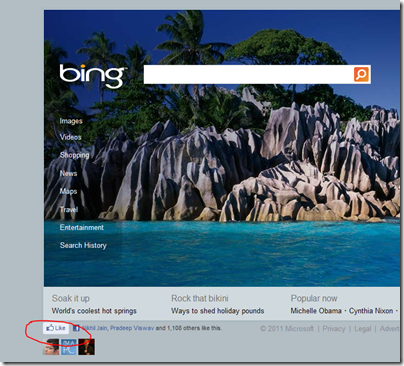 The button allows you to "Like" the day's Bing home page image: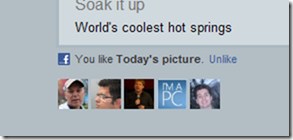 Bing has been collaborating closely with Facebook, powering some searches within Facebook, and adding in more connections over time.  Last October, Bing announced "Liked Results" in Bing, and "Facebook Profile Search", and then in December, at that time Corporate Vice President of Online Services Satya Nadella (who was just promoted this morning to President of the Server and Tools business, replacing Bob Muglia), announced that they "liked" Facebook even more:
More social: Expanding on our exclusive partnership with Facebook, we will now show you which of your friends have "liked" search results to help you decide the best answer to your query, whether it's a vacation destination, movie selection, or laptop review.
We've never noticed this before (and we're on Bing all the time).  Is this new for you, too?