In their press materials for the big announcement on Friday, Nokia and Microsoft featured a number of their brands in a collage of goodness about the partnership: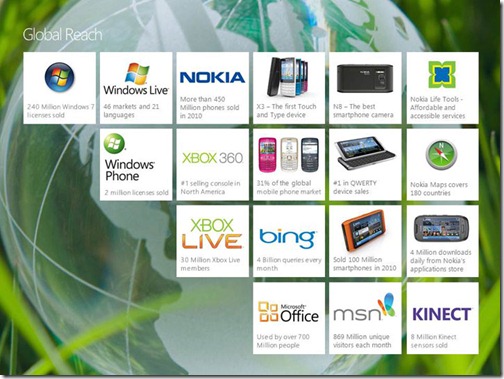 However one brand is conspicuously missing from the equation: Zune.  It doesn't appear anywhere on the slide, nor anywhere else in the Nokia/Microsoft announcements.  Paul Thurrott, in his Window Supersite post analyzing the announcements, noted that neither Nokia CEO Stephen Elop or Microsoft CEO Steve Ballmer mentioned Zune.  Thurrott quotes Elop and gives his opinion:
Microsoft, meanwhile, has a "great software platform" in Windows Phone, and the brands that mobile consumers want, "like Bing, Xbox LIVE, and Office." (Side-note: Zune was conspicuously absent from this list. It is my opinion and guess that Microsoft is currently phasing out the Zune brand and will simply roll the various Zune services into Windows Live.)
And again, when Steve Ballmer took the stage Friday morning, he didn't mention Zune either, as noted by Thurrott:
He said that Windows Phone was not just a single product but was instead the combination of many products from across Microsoft, "not only Windows, but Office, Bing, Hotmail, and Xbox." (Note, again, how Zune was conspicuously left out of this equation.)
While this can't be the greatest news for Zune or Zune fans, we think there are some explanations that fall somewhere south of "ZOMG, Zune is Dead!!". 
First, Nokia has its own music store: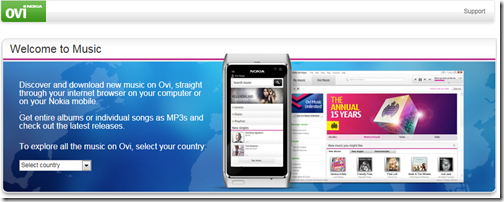 Part of the "Ovi" feature suite, Ovi music offers downloads (and more importantly, licensing deals with music companies) for 23 countries around the world.  It may bother users that Zune doesn't offer the same services (Zune Pass, mp3 downloads free to keep, etc.) to other countries that it does in the US, but the fact is that these decisions are based largely on unique and often complex deals with music companies on a country by country basis.
We expect that a big reason why Zune wasn't mentioned has to do with separate (or incomplete) plans to run music services on Nokia devices.
Next, Zune probably is ripe for a rebranding.  We're not sure it belongs with Windows Live, as Thurrott suggests (for one thing, Windows Live falls under the Windows organization, a separate division than Windows Phone and Zune, which are in Entertainment & Devices), but a "Windows Phone" branded music player might give a bit of extra marketing push to Windows Phone, which as we all know needs all the help it can get.
We can't imagine that another Zune device will be released any time soon.  Anything that would take sales away from Windows Phone doesn't make sense, not right now, anyway.   Yes, Mix 2011 is promoting their keynote speaker with a somewhat cryptic reference:
For the second year in a row, Joe Belfiore, who oversees Windows Phone Program Management, and is responsible for the design and software product definition of forthcoming generations of Windows phones and Zune devices will keynote MIX again.

(emphasis added)
… and if Windows Phone was selling like hotcakes, a secondary (without a phone contract) new device might fly, but right now it needs to be "all in for Windows Phone", with no distractions.
Will we see the Zune brand dissipate, or is this just a Nokia/Microsoft thing?  We think Microsoft has a winner with the functionality of the Zune software, with Zune Pass, and with the Metro design elements that make Zune products stand out, but we're not sure that Microsoft needs, or wants, another brand to manage.  Music is and should be an integral part of the Windows Phone and Xbox experience, but does Microsoft need "Zune"?