Bing is in testing to begin a wider launch for Bing Tiles, which will be interactive icons placed next to "authoritative" links in organic search results.  We first heard about Tiles in a video interview with Bing Director Stefan Weitz and SEOmoz CEO Rand Fishkin, which first aired yesterday.  We asked for more information on Bing Tiles, and a Microsoft spokesperson responded:
"We are always looking at new ways to improve the Bing user experience, and recently we began testing 'Tiles.' A tile is an interactive logo or image displayed next to a search result that helps people easily identify a trusted site and make faster, more informed decisions. We are initially partnering with approximately forty-five content providers to test tiles focused on entertainment, local, travel and auto."
Thanks to LiveSide reader TravisBrowny, we have a screenshot of at least one version of how Tiles may appear to searchers: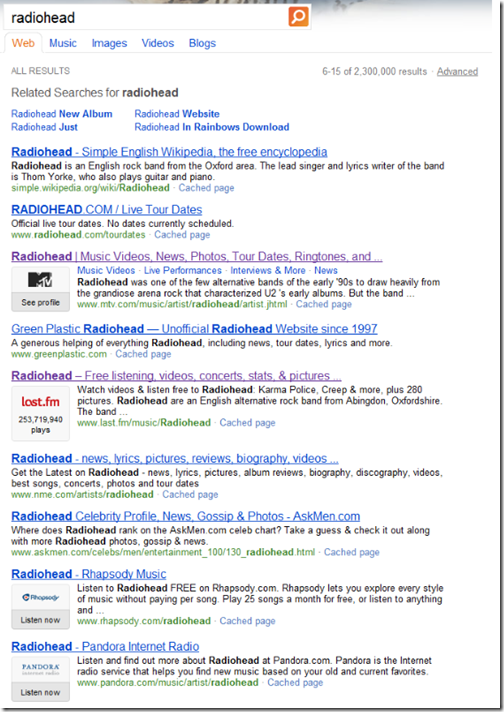 These tiles, which TravisBrowny captured apparently from one of the tests now occurring, do not appear quite the way Weitz drew them up in the webcast: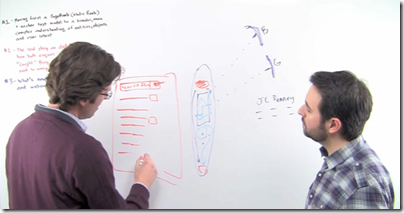 The Tiles are interactive, so you could click through on the Pandora or Rhapsody tiles and listen to a song, or see the current number of plays from Last.fm.
Of course the usual questions may arise as these sponsored tiles are/will be showing up in organic results (will paying for Tiles change your position on the page?, etc.), and both our spokesperson's response and Stefan Weitz's comments seem to strongly indicate that the initial 45 content providers will soon be opening up to more providers.  What criteria Bing places on what constitutes an "authoritative site" (other than payment, of course) remains to be seen.
We should know more soon about Bing Tiles, but this seems like an interesting experiment in both providing a more interactive experience with the "ten blue links", and also a new way to generate revenue from search results.  We'll be very interested to see how this plays out.