Travis Pope, who runs ZuneSpring.com and is a Zune MVP, picked up on an announcement on the Zune Insider podcast from yesterday: Zune HD is coming to Canada.  The podcast, hosted by Matt Akers and Jessica Zahn from Microsoft, is a weekly audio podcast all about Zune.  Here's what they said about Zune HD in Canada:
04:28 Jessica Zahn:
So if you go to the Zune Originals site, and you're from Canada? We're selling the Zune HD, via Zune Originals, in Canada…We don't have a Music Marketplace there, we don't have an ETA on when we will have a marketplace there. It's all about, first the licensing, and then about the development work we have to do to bring that to Canada.

Matt Akers:
There's been some talking about it though

Jessica Zahn:
Definitely talk – many words – have been said
So if you're in Canada and want to buy a Zune HD through official channels (no more sneaking them across the border!), you can check them out and order at ZuneOriginals.net.  By the way, if you're in the US and need a Zune, ZuneOrginals has them discounted, you can get a 32gb Zune for $70 off, with some added bonuses: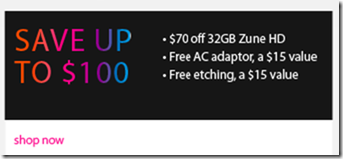 Of course, Matt Akers and Jessica Zahn had to touch on all the Zune rumors from the past week, issuing what could be construed as more non-denial denials about the fate of the Zune brand (and yes, we know, Zune is "Not Dead", if you consider the Zune features and services to be Zune, and not the brand name itself):
01:50 Matt Akers

"I guess the meta-point here… Zune is not dead. We still have jobs, right, and I still get my paycheck and I still work on a thing called – yeah – you know what it's called, Dorado – that's the code name, blah, but that's Zune, dude"
Just as a point of reference, "Dorado" is the Zune client software, as noted in Mary Jo Foley's "All About Microsoft: CodeTracker".
Oh, and one other interesting bit of news from the ZuneInsider podcast: a new version of Windows Live Messenger for the Zune HD is coming, hopefully next week.  Could we be finally getting a real Windows Live Messenger client for Windows Phone soon?  One could only hope.
You can download, stream and/or subscribe to the ZuneInsider podcast via ZuneInsider.com