Just received some new information about Bing Tiles, coming from a Microsoft spokesperson, and they were kind enough to send over some screenshots.  As you can see, the Tiles appear on the right, as Stefan Weitz whiteboarded, and not on the left, as our earlier screenshot showed: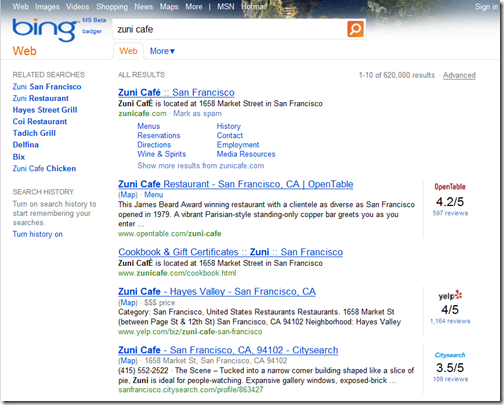 The Tiles include a logo of the "authoritative" site, some dynamic information, and links back to the site.  We checked, and we're not seeing Tiles show up in these (or any other that we've noticed) results.  Here's another shot: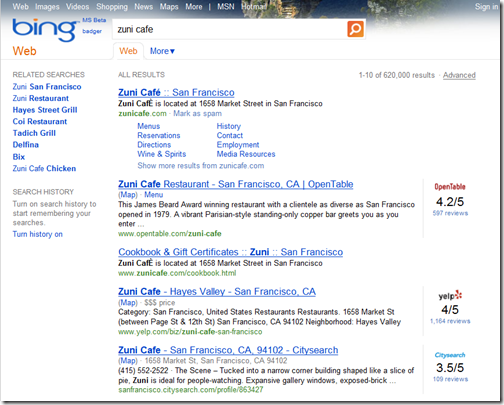 When we first heard about Bing Tiles, we assumed that these "partnerships" with "authoritative sites" were "sponsored", or paid inclusions, and said so in our post.  However, that apparently is not the case.  From the Microsoft spokesperson:
Tiles are actually not part of a "paid" or "sponsored" program, but rather they're created in partnership with recognized brands to help people easily identify trusted sites and make faster, more informed decisions. And Tiles do not have an impact on organic search results.
We can't help but think that most people viewing these Tiles, especially with full color logos and links back to the "partnered" sites, will assume, as we did, that they are paid inclusions.  They certainly look like ads. 
Stefan Weitz and our Microsoft spokesperson strongly hinted that the initial partnerships with 45 authoritative sites would be expanded, but again, shouldn't we know how Microsoft grants authority?  Hopefully there will be a "More information about Bing Tiles" link somewhere, we understand that we found these a bit on the early side and that there's still more information to come.
What about you, would you assume that these links are paid for?  Would it be more helpful to you to know that they aren't?  Does it make a difference?  And, most importantly, do you think they will be helpful?