We've been trying to keep our Windows Live Calendar current with upcoming events, and it's definitely filling up as we head into spring.
First up is the Microsoft MVP Summit – LiveSide started when a group of us met through a series of MSN betas, which morphed into the MSN Butterfly program, and then the first MSN/Windows Live MVPs, so we have a soft spot in our hearts for the MVP program.  We still have quite a few friends who are MVPs, including Picturepan2 (Yan Zhu), who we just met last night for the first time, Travis Pope and Marques Lyons from Zune, Ed Bott, and our old friend Steven Boots, Windows Live MVP.  Of course there are many more, and we wish them well in cold Seattle as they spend the week with their counterparts from Microsoft.  Have fun, guys!
Coming up right after that is South by Southwest Interactive (SxSWi), in Austin, Texas.  SxSW started off as a music conference featuring new and upcoming, but perhaps not yet widely known, bands.  Since then it has grown and grown, and now includes SxSWi, which aims to do the same thing for up and coming software companies that it does for bands: that is, get them some much needed exposure.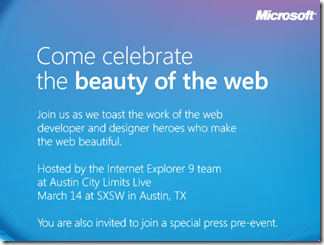 Microsoft isn't quite an up and comer, but they'll have a presence anyway.  One session to watch will be Q&A With Google & Bing On Website Ranking, with Danny Sullivan from Search Engine Land, Matt Cutts from Google, and Duane Forrester, Sr. Product Manager, Webmaster Tools, Bing.  Will we see more theatrics from Matt Cutts?  Will Forrester announce a new version of Webmaster Tools, which Stefan Weitz recently hinted at?  One thing for sure, Danny Sullivan will make sure it's an entertaining event.
And of course there's the  Internet Explorer party and "special press pre-event" on March 14th.  There is some speculation that Microsoft will release the final version of IE9, but others think it will instead announce new music and video partnerships, and leave the release of IE9 to Mix, the next event on our calendar.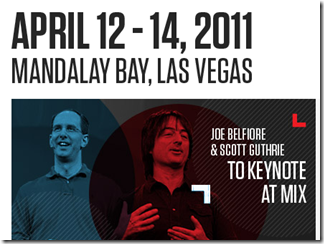 We're unable to personally attend SxSWi, but we will be at Mix 2011, which should have lots of news about Windows Phone, Microsoft's newfound love affair with HTML5, the future of Silverlight, and who knows, maybe even a bit about what David Treadwell and Don Box have been cooking up over on the Xbox side of things with IEB (Interactive Entertainment Business) and "ISS" (IEB Software and Services).