With the official news yesterday that IE9 will go final and be available for download on March 14th, complete with a blowout party at SxSW in Austin, Microsoft's Mix web development conference added Dean Hachamovitch to the keynote, joining Scott Guthrie and Joe Belfiore onstage.  Hachamovitch announced the first public preview of IE9 last year at Mix, and will ship the final version almost exactly a year later.
The graphic for the announcement sure seems to hint that Mix isn't done announcing keynoters: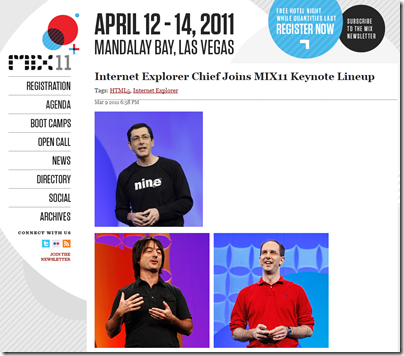 Either that or this web design conference web design is, well, lacking!  Who else will be announced as a keynoter at Mix, any guesses?
We'll be making the trip to Las Vegas again this year, expecting to hear plenty of Windows Phone and IE news.