Microsoft's Bing continues to add features to its Travel vertical, this time announcing "Attractions" in a blog post on the Bing Search blog.  Attractions bring together a number of bits of information for some 52,000 attractions around the world, offering addresses, details, reviews, video, and images all in one page.
Attractions joins Events as a specific vertical under Destinations when searching on, say, a city like San Francisco or London, UK: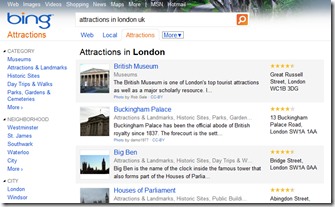 Searching on attractions for a city offers up a list of selected attractions, for which you can then dive a bit deeper: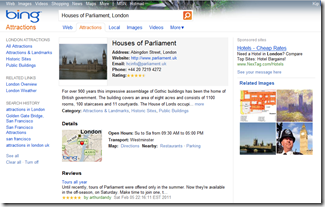 The Bing blog post notes that "page content is contextual based on user location", we found that finding the Attractions vertical was somewhat inconsistent: searching on a city sometimes resulted in the "Attractions" menu item in the top bar, and sometimes not, searching on "London Attractions" did not bring up the menu item, but "Seattle Attractions" did.  Since we were searching for the "Attractions" feature, and not Attractions themselves, this may not be such a big deal, but we're not sure how to get a consistent experience, say if you were trying to choose between different travel destinations based on their attractions by searching in Bing.
The Attractions page features, as many of the Bing vertical pages do, filters on the left hand side to narrow down your searches, say to museums, or by neighborhood, etc.  Bing continues to expand the filtering features, as well, and one of our readers noted that "Narrow by Date" has recently been added as a filtering option for some searches.
As Stefan Weitz says in the video accompanying the blog post, Bing is continuing to "bring you structured information in a way that helps you make a decision", as it continues to move beyond 10 blue links.
Our initial interaction with "Attractions" is that once discovered, it can indeed be helpful in quickly presenting some of the most relevant information on destination attractions.  Making it a bit more universal and discoverable we are sure will come with time and a few tweaks, but it's well worth having in search results.