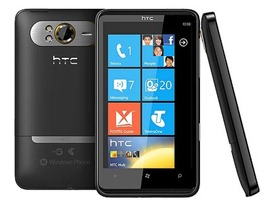 We realize we've been hammering Microsoft and the carriers for the NoDo update debacle, but think of it as "tough love" – we really like our Windows Phones, we want very much for the platform to succeed, and like a number of commenters on Eric Hautala's Windows Phone Update post, we think Microsoft can and must do better.
So we want to bring some good news about Windows Phone when we find it, and a post on the Sydney Morning Herald's Digital life brings both some good news and some actual numbers for Windows Phone sales.
Based on a report from IDC Australia, released today, Windows Phone gained 4.4% smartphone sales share in Q4 of 2010 across Australia.  First place was Nokia's Symbian (32.2%) (also a good sign for Windows Phone as Nokia prepares to make the switch to Windows Phone), followed by Apple's iOS (30.3%), and Android (25%):
"I would say WP7 has had a strong start, given the short time it's been in the market and the strong growth from Android, Apple and large increase by Symbian in Q4," said IDC telecommunications analyst Mark Novosel.

"Given all that to see a 4.4 per cent share in the launch quarter is a very promising start."

Novosel noted that Google's Android platform took 18 months to make a serious impact on the market.

"So WP7 has certainly had a stronger start than Android did, although it's coming into the market with a lot more competition than when Android launched," he said.
Australia's Telstra is set to launch the HTC HD7 (already available in the US through TMobile) on March 29th, presumably complete with NoDo.
The IDC Australia report also noted a jump in Windows Phone sales over Microsoft's previous offering, Windows Mobile:
"The launch of Windows Phone 7 saw a notable 3.2% Q/Q jump in shipments of smartphones running Windows, with Microsoft's Q4 total equaling that of all Windows Mobile devices shipped in the prior 12 months," said Novosel.
So it's not all doom and gloom, and aside from some glaring problems with the Dell Venue Pro, to be honest we're not in a crying need for copy/paste.  We just want desperately for Windows Phone to succeed, and to bring the kind of "magic" to us PCs that Apple fans seem to enjoy with every incremental update.