March, 2011
Remember last year when we revealed a few slides on Windows 8 which showed that Microsoft's next operating system might be getting cloud-based identity and roaming settings? It appears that the screenshots of an early build of Windows 8 that …

Bing and Kayak, the "travel search engine"
have announced a partnership today
, similar to partnerships Bing has established with Facebook, Twitter, and Wolfram Alfa. From an email to LiveSide.net promoting the new partnership:
Today, Bing Travel and KAYAK
…
Our friend Long Zheng from iStartedSomething.com just posted a series of Australian advertisements for Windows 7 and Windows Live – featuring the winner of Miss Australia 2006 Erin McNaught. Check out the videos below of the latest advertisement campaign from …
Bing is announcing today a partnership with Dealmap to bring offers from the leading online coupon providers (Groupon, LivingSocial, Restaurant.com to name a few) directly into Bing via desktop search or m.bing.com via HTML5 compatible phones (iPhone or Android, but …
Last night Microsoft announced the updates to Samsung phones are resuming:
Starting today, we plan to resume rolling out the February update to Samsung phones. Meanwhile, we're continuing to dispatch the update to other Windows Phone models. As has been
…

(Update) Sorry to report that we got a bit fooled by someone retweeting this info – it did happen, but a year ago.  Our mistake!
Adweek is reporting that a single advertisement placed on Farmville netted the upstart search engine …
If you've been following Windows Live at all, you knew, like us, that there wasn't much hope for Windows Live Spaces, and we were genuinely relieved when we found out that Windows Live had worked out an agreement with …
Looks like we're seeing Microsoft ramp up its advertising efforts across the board and around the globe: Windows Phone has taken over Times Square, the Microsoft Store has a new look, and in the UK, a new campaign …

Windows Live Mesh reached an important milestone today: it's now used to connect over 5 million devices.  Over 3 million users are syncing some 2.2 petabytes (1 petabyte = 1024 terabytes, 1 terabyte = 1024 gigabytes), or over 2,306,867.2 gigabytes…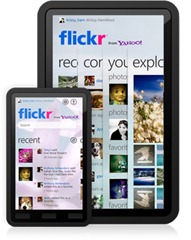 Today, Yahoo! is officially releasing its Flickr for Windows Phone 7 and Flickr for Windows 7 apps, featuring tight integration with the photo sharing application.   The Flickr blog details some of the features:
Swipe through panoramic blades to see all
…

WMPowerUser received a tip today that the recently announced IE 9 for mobile update for Windows Phone may indeed be coming well earlier than the "Mango" update due in the second half of the year.
WMPU's tipster, "Sylar", recently also …
Today Bing is unveiling some improvements to the way you can search using natural language queries, adding the ability to query by price.  For example, a query for "laptops under $500" will filter out any higher price laptops, eliminating …
Page 3 of 3
« Previous
1
2
3