(note: no April Fool's jokes here today, unless you consider the whole NoDo release one big Microsoft prank)
Microsoft Advertising held its "Imagine 2011" event in Redmond this week, bringing together advertisers and industry insiders to talk about the future of Microsoft and advertising.  Included were talks by Steve Ballmer, Online Services President Qi Lu, and Yusuf Mehdi, who showed off Bing, including a snippet of HTML5 enabled Bing.  We've been being promised the new HTML5 version for quite some time now (maybe it's just waiting for IE9 to gain some traction).  Here, in a video you can catch a glimpse of Bing/HTML5 in action:
While a bit fuzzy, a screenshot shows not only the HTML5 top navigation bar, which is "pinned" as you scroll down through the search results, but also a new "combo box" of instant answer results for, in this case, the city search of New York.  Instead of separate weather, "explore" (including Attractions), and flight information, all of that is brought into one box: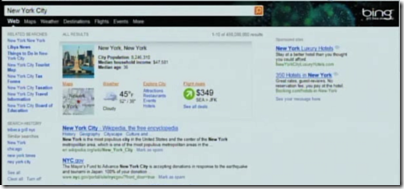 Interestingly, Microsoft Advertising had posted 3 parts of this series with Yusuf Mehdi, but Part One, which showed off some new Bing mobile advancements has gone missing.  We watched it last night and planned to include it here today (after waiting for the April Fool's posts to blow over), and now it's gone.  Dang.  Mehdi did show off some new Social features coming to Bing, including upcoming changes to MSN.com, in Part Three.
The Yusuf Mehdi demo was a part of Dr. Qi Lu's presentation, "Delivering on the Digital Promise", highlights of which are also up on the Imagine 2011 video showcase.
When do you think we'll see Bing/HTML5?  As early as Mix, which is in 9 days? We don't see much in the way of a Bing presence at Mix, but we may well see more of the new UI as Microsoft continues to embrace HTML5.