Microsoft's web developer conference, Mix, is upon us again and we'll be winging our way to Las Vegas to bring you all the latest.  Included in this year's Mix are keynotes by Scott Guthrie, with news of Silverlight 5 and Microsoft's "new direction" regarding Silverlight and HTML5, Joe Belfiore with the latest on Windows Phone, and Dean Hachamovitch with the latest on IE9.
Mix is always a nice blend of news announcements and developer sessions, and just like in the past we'll be joining some of our Microsoft watcher colleagues in bringing you another liveblog of the keynotes: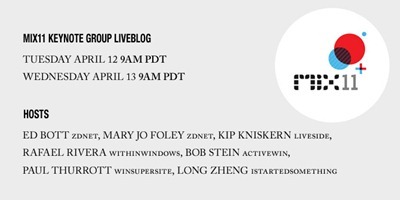 Mix has been great at getting content up online, and they'll be live webcasting the keynotes as well, so you can watch the webcast and get up to the minute smart ass comments insightful analysis from our liveblog.
Of course we'll be poking around as well to see what we can learn from those as yet un-named Windows Phone sessions, keeping an eye out for news on Bing/HTML5, and maybe even learning a thing or two about Windows Live Wave 5 (don't hold your breath, though).
So join us here on Tuesday and Wednesday at 9am PDT (you can check your local time here), and if you're at Mix, we'll have LiveSide stickers!