So it's been a day of great announcements at MIX 2011 today. If you've missed the Day 2 keynote this morning, it is now available on the MIX 2011 website, or you can also check out our liveblog for some live commentary this morning. For those who don't want to watch the full two-hour keynote video, we've made a nice little summary of what's coming next for the Windows Phone "Mango" update for you, together with bits and pieces of news from around the web on any extras we found out about the update that wasn't announced as part of the keynote. Remember that this is a developer-focused conference, so the features announced today tend to be a bit more focused on APIs and development tools. However, as Joe Belfiore promised, there are more end user features yet to be announced. So here it is: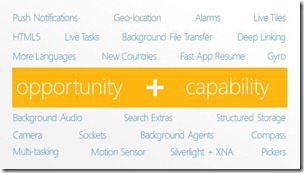 For End Users
So in addition to third-party multi-tasking, Twitter integration in the People hub, better support for Office documents in SkyDrive which were announced back in Mobile World Congress, Microsoft announced the following new features coming for end users (in order of appearance in the keynote):
Improved application discovery – new app search function to find applications quicker by name, or sort by alphabet
Better marketplace navigation – new pivot function to separate apps from music and podcasts, better navigation around app details
Over-the-air podcasts support – ability to download podcasts directly from the marketplace on the phone
Bing Search "Extras" – one-touch navigation to third-party apps for movies, restaurants, and local search results
Internet Explorer 9 Mobile – with HTML5 support, full hardware acceleration, background audio support, H.264 video support, and improved landscape viewing
Custom ringtones support – ability to download and set custom ringtones from the web
Multiple Live Tiles per app – ability to pin in-app pages to Start page
Parental controls (via WMPowerUser.com)
Screenshot and camera roll navigation (via Neowin.net)
Configurable background services (via WPCentral.com)
Revamped Games hub – with Xbox LIVE Gold support, and a dedicated "Games" marketplace (via WPCentral.com)
Next generation hardware – Gyroscopes (and maybe more?)
Additional support for 16 languages worldwide, and expanded marketplace to 35 countries (up from 16)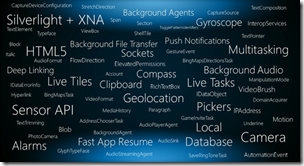 For Developers
Joe Belfiore also announced that the Windows Phone Developer Tool Refresh will be coming in May for all developers. With the "Mango" update, developers will get the following support for developing on Windows Phones:
Expanded Live Tiles functionality – multiple Live Tiles per app, improved animations, enabling Live Tile updates from apps without push
1500+ new APIs – including Motion Sensor library (compass and gyroscope), raw camera data, TCP/IP sockets, SQL database access, more launches and choosers, and access to Contacts and Calendar through apps
Live Agents – allow developers to balance the problem of running background code (for multi-tasking) while allowing users to maintain good battery life
Support for Silverlight and XNA in the same project
A new profiler and emulator for testing apps via the Windows Phone Developer Tool
Expanded mobile operator billing and more countries for advertising SDK
Brandon Watson also promised via a tweet that Microsoft are aiming to provide developers with early access to the "Mango" build. Looks like the update might not be too far away for some of you out there!
For more information, you can check out the official press releases here. The Windows Phone and Windows Phone Developer blogs has also been updated with today's announcements. Finally, make sure you also check out the Channel 9 video which gives a nice overview and a short demo of these newly announced features. Tell us what you think in the comments below!