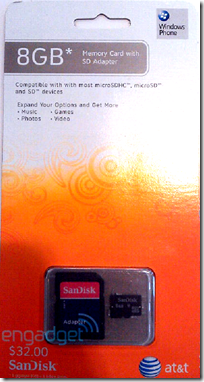 When the first batch of Windows Phone 7 devices first came out, attention was paid to the availability of the microSD card slot in several phones, particularly the Samsung Focus. Unfortunately, while Samsung Focus supports microSD card expansion, several caveats exist, and not all microSD cards available on the market are compatible. In fact, this caused Microsoft to create a KB article specifically addressing the issue on microSD cards on Windows Phones, although it didn't say much nor did it mention which microSD cards are "Windows Phone 7 Certified".
The situation has changed, and Engadget today reported that Windows Phone 7 Certified microSD cards are now appearing at AT&T stores. According to the website, these are 8GB Class 4 microSDHC cards manufactured by SanDisk, and are available for USD$32. Unfortunately, this is the only capacity available at the moment, meaning users can only get a total of 16GB on their Samsung Focus if they want to stay on the safe side.
The second piece of news coming out from AT&T is that the LG Quantum and Samsung Focus will finally be getting the "NoDo" update on April 19th. Microsoft has updated the Where's my phone update? page with the latest information. Unfortunately, the update for HTC Surround is not yet available and is scheduled for availability around mid-May according to a leaked AT&T email (thanks WinRumors). Eric Hautala, General Manager for Customer Experience Engineering, explained the situation on the official team blog:
But we know we still have plenty of work to do. The HTC Surround, for example, won't be joining the update party just yet. I know that probably comes as a letdown to Surround owners, so let me spend a moment explaining why.

The updates we deliver contain a complex stew of software code. The content often includes not only our fixes and improvements but also software supplied by companies that make the phone itself and the chips inside it. One of these third-party software "packages" earmarked for the HTC Surround needs additional testing by both Microsoft and AT&T. I apologize for the delay. As soon as I have more news, I'll let you know.
So to all those LG Quantum and Samsung Focus users out there, it's only a few more days until you can finally get your hands on the "NoDo" update. We definitely hope the update process would be much quicker with the upcoming "Mango" update. Let's hope Microsoft has learnt their lesson this time!
Update: Eric Hautala just updated the official blog post mentioning that the AT&T update will add two special features:
The update we'll be shipping to AT&T customers also includes support for two special AT&T features. The first is "WISPr" protocol support, which makes it possible for your phone's data connection to automatically switch over to AT&T Wi-Fi hotspots when in range. The update also includes support for AT&T Address Book.