After all the excitements from the MIX11 keynote yesterday on the upcoming Windows Phone "Mango" update, there is another piece of information coming out from one of the MIX11 Windows Phone sessions. MobilityDigest.com posted a slide from the session showing the that Microsoft will be providing Windows Phone developers with more distribution options to the marketplace: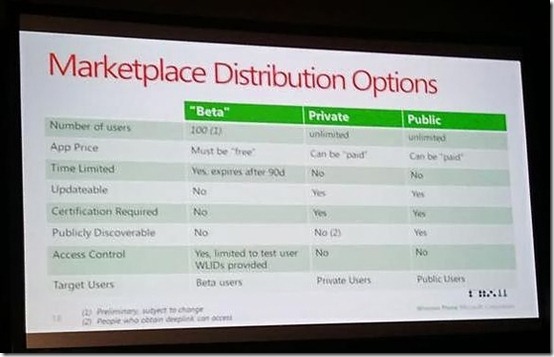 The "Mango" update will bring two new marketplace distribution options for developers – the "Beta" and Private marketplaces. The "Beta" marketplace will not require app certification and will allow developers to limit the distribution via Windows Live IDs. However, there is a limit of maximum 100 users (subject to change), and the apps must be free and will expire after 90 days.
There is also the Private marketplace, which works the same way as a Public marketplace you see now, with the only difference being it not publicly discoverable. This would be suitable for corporations wishing to distribute custom-made apps for their employees, for example. However, while it's not publicly "discoverable", once people have obtained the Deep Link to a Private marketplace, they will be able to access it afterwards.
This will be a nice addition for developers, providing more options to distribute their apps. However, it would be interesting to see what will happen to Nokia Windows Phones, when Nokia decides to integrate the Ovi Store with the marketplace.