It hasn't been the best of launches for Windows Phone.  Starting off late last year with short supplies at launch both in the US and in Europe, a late start for the Dell Venue Pro, and then a string of broken promises about a "NoDo" update, leading to a "where's my update" site on Microsoft.com, a Mix 2011 apology from Corporate Vice President Joe Belfiore, and in the meantime, a "homebrew" workaround that could install the NoDo update without carrier intervention.  We've yet to see if that solution will cause issues down the road, we should know more as soon as this week when AT&T begins to deploy NoDo.
But beginning at Mix, with announcements on what looks to be a solid update coming this fall with "Mango", some indications that Nokia may indeed ship a Windows Phone this year, and even a bit of inching up the market share ladder, things may be looking up for Windows Phone.
Will Windows Phone be able to get past its early blunders?  Will Nokia get on board soon enough to help? Will it even make a difference if Apple and Android continue to roll?  Let's look at some reasons why it might not be all gloom and doom for Windows Phone:
Nokia
Nokia not only brings great hardware and lots of experience to Windows Phone, but a full set of features as well.  If Ovi Music, for example, comes along for the Windows Phone ride, it will bring with it worldwide licensing agreements for downloading songs, something that Microsoft through Zune have struggled to, or held back from, building out.
Nokia is particularly strong in location services, have just released a new set of developer tools for location aware apps, as well as a new beta 3D Map product, Ovi 3DMaps, which is quite similar to the now deprecated Bing Maps 3D: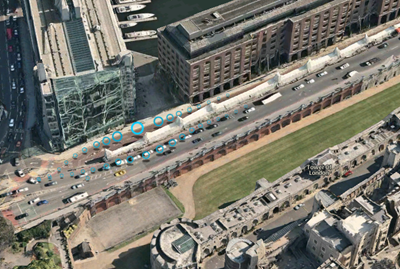 All of the rendering on the maps are 3d models (this is not simply a bird's eye image, as you can tell from the bit of a rendering problem the software had on the entrance to Tower Bridge House in London, at the left above).  Note also the blue circles, which each represent a photograph that you can click on for more detail.  Which brings us to:
Maps
Microsoft has been spending a LOT of R&D money on maps, and Windows Phone may be why.  Remember that Apple does not have its own mapping product (here, they are the ones struggling to catch up), and while Google enjoys the bulk of the market share in maps, Microsoft's offering is no slouch.  Coupled with Nokia's location services through NavTeq, and local search advances through Bing, Windows Phone could see a whole new innovative set of location based services on the phone, as soon as this fall with Mango.
Developer
This one is a bit tricky – there's no doubt that Windows Phone provides by far the best set of tools for developing for mobile available.  However, it won't matter unless they can raise the install base of the phones: developers will go to whatever lengths necessary to develop apps for the largest possible audience.
What great dev tools (and the new tools we saw at Mix and coming next month are great) does potentially mean is the ability to create apps and features for Windows Phone that are more full featured and can ship more quickly than on other devices.  Even though the install base isn't there, those 14,000 apps on the Windows Phone Marketplace are a good indication developers are paying attention.
We'll also see a whole new set of internal apps, features, and tools coming out with Mango that weren't previously possible, including things like Windows Live Messenger and more.
The Carriers
Just a note here about the carriers: nothing much is going to change in the short term about how updates are handled.  The carriers want control, they make a lot of money off those $200 termination fees when you just "have to" have the latest phone, and updating your old one isn't in the carriers best interest.  However that doesn't mean that Mango won't ship in early fall, it will just ship first on new phones.  Expect the carriers to continue to drag their feet on updating existing phones (and trying to push you into that new Nokia phone with the 12 mpx camera).  Hopefully Microsoft can get its PR together enough not to let another NoDo debacle happen, but the carriers still rule, and they like it that way.  Get used to it.
The Phone "for the rest of us"
Business Insider ran a survey the other day asking about what phones users were planning on buying, with the results almost exclusively Apple or Android (and lining up into well entrenched camps).  Almost all of the survey respondents already owned smartphones, however, and that's precisely the point: Microsoft is targeting first time smartphone buyers, where there is a huge untapped market, and not the tech elite that already have smartphones.
There's still a market out there for Windows Phones.  Will it make it to the #2 spot by 2015?  As much as Windows Phone stumbled out of the gate, and even though Android has changed the game, again, there's still plenty of upside left for Windows Phone.