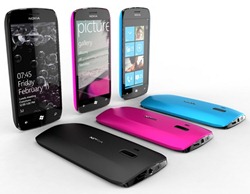 This one just came in. Microsoft and Nokia has just signed a definitive agreement on the partnership which was announced earlier in February before Mobile World Congress. According to the official press release, the partnership involves:
Nokia to deliver mapping, navigation, and certain location-based services to the Windows Phone ecosystem. Nokia will build innovation on top of the Windows Phone platform in areas such as imaging, while contributing expertise on hardware design and language support, and helping to drive the development of the Windows Phone platform. Microsoft will provide Bing search services across the Nokia device portfolio as well as contributing strength in productivity, advertising, gaming, social media and a variety of other services. The combination of navigation with advertising and search will enable better monetization of Nokia's navigation assets and completely new forms of advertising revenue.
Joint developer outreach and application sourcing, to support the creation of new local and global applications, including making Windows Phone developer registration free for all Nokia developers.
Opening a new Nokia-branded global application store that leverages the Windows Marketplace infrastructure. Developers will be able to publish and distribute applications through a single developer portal to hundreds of millions of consumers that use Windows Phone, Symbian and Series 40 devices.
Contribution of Nokia's expertise in operator billing to ensure participants in the Windows Phone ecosystem can take advantage of Nokia's billing agreements with 112 operators in 36 markets.
Of course, the press release also talks about how Microsoft will be receiving royalty payments from Nokia starting from when the first Nokia Windows Phone ship, as well as Microsoft paying Nokia "billions of dollars" in recognition of Nokia's intellectual properties and contributions to the Windows Phone ecosystem.
Ina Fried on AllThingsD.com also has an exclusive interview with Kai Oistamo, Executive Vice President and Chief Development Officer at Nokia and Andy Lees, president of Microsoft's Mobile Communications Business. Of particular note is some of the things that had taken place since the announcement since February:
Oistamo said he is even more pleased with the technical work that has taken place in the past 60 days–including getting the first Nokia hardware running Microsoft's operating system.

…

Although the contract largely formalizes the same structure envisioned when the two companies announced the partnership in February, Oistamo said there have been some minor changes, as well as more details on how the partnership will extend beyond phones. Microsoft, for example, plans to adopt Nokia's mapping technology broadly beyond its phone business, while Nokia will use Microsoft's Bing search engine on even non-Windows Phones.
Seems like the partnership now involves more than just Windows Phones, but is extended to Bing as well. Also, while the press release also states that Nokia aims to securing "volume shipments" in 2012, however, according to the interview, Oistamo confirmed that Elop's expectations for launching the first Nokia device with Windows Phone on the market this year haven't changed.
You can also check out the joint blog post by Kai Oistamo and Andy Lees.