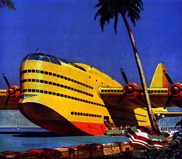 Last week we noticed a number of Twitter links to a blog post decrying Windows Phone.  Entitled "6 Reasons Windows Phone 7 is Dead in the Water", I4U News listed their top reasons why we should "abandon ship while you still can".  The post goes on to detail some of the common failings of the new platform, including the NoDo update debacle, lack of clout with partners, and "stupid little things".  Needless to say it was a bit of a hack job, but there's no denying that Windows Phone has a long way to go.
Just for fun, we thought we'd put together 6 reasons why Windows Phone's future might not be so bad, after all:
1.  The Phone market changes quickly
In a Business Insider Contributor's blog, author Amol Sarva pointed out last week that the smartphone market may be less like the PC market, where one platform rises to the top and dominates, and more like the game console market, where market dominance is much more fluid:
It could be more like Sega Genesis vs. Super Nintendo or the rest of the game console cycles.

There, a tech driven hardware platform would launch every so often, a couple of key platforms would win most of the share and attract most of the applications, of which users might own 10-20 on average, and reign supreme for a few years.

Then all the lockin would be gone and the next would supercede.

In the time that Microsoft came to dominate the business computing market since 1980, the lords of gaming have been: Atari, Commodore, Nintendo, Nintendo, Sega, Sony, Microsoft, and Nintendo, and again Microsoft.

Could mobile be like this?
Indeed, the latest information coming from Nielsen seems to support this, as (although Windows Phone is quite far behind) even in the past three months there have been noticeable changes in consumer preferences for smartphones: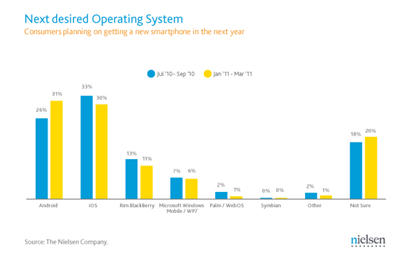 2. The Soft Launch
As usual, Microsoft dug itself a hole in the smartphone market, closing its eyes to how bad Windows Mobile really was for the consumer market, ignoring the early success of the iPhone, and then madly scrambling (with some noticeable KIN missteps) to rush to get a competing phone to market.  What's probably most amazing is that the core of Windows Phone is solid: a new "design language" in Metro (well, borrowed from Zune, that is), a well thought out app strategy, tight integration with music, search, and games, and a unique look, much different than the other guys.
But Windows Phone was rushed to market, unfinished.  Really the first "real" Windows Phones will come with Windows Phone 7.5, or "Mango", and will be supported by a strong push from Nokia.  What we have now is nothing but a beta test for what's to come.
3.  Bing
Again, not much to report so far, but Bing is going to make Windows Phone shine.  Already we're seeing well lauded and innovative Bing apps for iPhone and iPad (the current Windows Phones just don't have the capabilities to create comparative experiences, yet), and coming with Mango we're going to see not only some cool features but Bing itself, with its own hubs of entertainment, shopping, and travel, and instant answers providing quick sets of information, is built with mobile in mind.
4.  Bing Maps
Nowhere has Microsoft made a stronger investment in innovation than maps, both in terms of a solid foundation complete with superior development tools, and strong innovation in a cohesive set of tools introduced last week under the title "Read/Write World".  Here Apple and iPhone are the ones lagging far behind, and although Google Maps have much more market share, and some superior features, Microsoft has continued to invest heavily in maps, specifically with mobile applications in mind.  We're about to see some of that investment pay off.
4.  Xbox and Office
Like Bing, Xbox and Office are moving rapidly into the mobile space, and both have far greater reach than the upstart search engine.  Advances in mobile game play (again, currently in almost a "beta" state), and a strong push with Office 365 hosted services working seamlessly with Windows Phone, for both gaming and productivity, Windows Phone is going to be a solid choice.
5.  Developers, Developers, Developers
Windows Phone just reached a 15,000 app plateau in just 6 months since launch, and interest in the platform remains strong and growing.  Of course, it's not the development platform that drives developers, it's user base: for most app developers, they'll hand code on the back of a napkin if it gets them a bigger audience.  Still, Microsoft has developed and delivered a strong set of tools that will pay off both internally and in the market as a whole.
6.  Nokia
There's no doubt, Microsoft needed Nokia, but with the partnership, there's a far better chance for both companies to succeed in mobile.  We expect to see our first "Mango" Nokia phone this year, and a strong push next year, when we get not only Microsoft but Nokia innovation on the Windows Phone platform.
Windows Phone is a strong platform, with some unique and well positioned advantages.  It's had a rocky start, but in truth it's only affected a small percentage of the smart phone market, and will be quickly forgotten when those users come up on their contracts and are looking for the latest and the greatest.  With a full set of features, ease of use, Nokia innovation, and some next generation advances in games, productivity, and maps, Windows Phone is just getting started.
(image credit: Plan59.com)