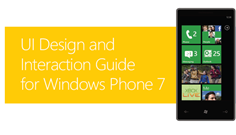 A few details are starting to filter out about how Nokia actually plans to utilize the Windows Phone operating system in its phones, beginning as early as this year and expected to ramp up significantly in 2012.
We know that Microsoft and Nokia are already working on tight Office integration, but a number of questions remain unanswered about what other services Nokia will embrace.  Both Microsoft and Nokia have already announced that Microsoft will make much greater use of Ovi Maps, not only with Windows Phones but across Microsoft, a statement that calls into question the current state of Bing Maps.  Certainly Microsoft is innovating hard on Bing Maps, so it's a bit unclear how a partnership with Bing Maps will play out.  Last year Bing Maps dropped their Bing Maps 3D product, an area where Nokia/Ovi Maps are particularly strong (you can watch a CNN "flyover" of the Royal Wedding procession path using Ovi Maps 3D here, for example).  How Bing Maps will change with the addition of Ovi Maps remains to be seen.
Nokia apparently also plans to make significant use of its Ovi Store, and again it will remain to be seen what relationships the Ovi Store and Microsoft's Windows Phone Marketplace develop.
But the bigger question is what will a Nokia Windows Phone UI look like?  In a video interview this week (in Finnish), Nokia Executive Vice President, Devices Kai Oistamo mentions Nokia's ability to innovate on top of the Windows Phone platform.  Arctic Startup has a translation of Oistamo's comments:
And finally, Nokia is able to modify the Windows Phone environment to their needs. Essentially this means that you might not see the boxed home screen on a Nokia Windows Phone anytime. This was also confirmed in another comment by a Nokia representative (in Finnish) by stating that "Nokia will not adopt Windows Phone environment as it is today".

Öistämö stated that Nokia is free to modify the environment as they wish, but it has to remain as a single environment from the developer point of view. Interesting comments and possibly a signal of things to come in the future.
The comment referred to above comes from a question in the comments on a blog post on Nokia's passing on of Symbian development to Accenture on the official Nokia blog (translated):
Is Nokia, intended to make the changes to the user interface level, unlike other manufacturers WP7? The same way as Android, Samsung TouchWiz UI and Sense HTC from? It would be nice to see in future Nokia handsets WP7 discipline of the phone interface.
Microsoft maintained a very clear set of design guidelines, based on their Metro "design language", providing operators and OEMs little chance to change the underlying look and feel of a Windows Phone.  This however, does not seem to be fully applicable to Nokia, based on the statements above, so we'll have to wait and see how much leeway Nokia has been provided with their newly signed partnership.